For our first episode of 2022, we invited Karen de Man, Alumni Relations Officer at Erasmus University Rotterdam and Johannes Epping, Alumni Relations Project Manager at University of Groningen, to share insights and best practices from their alumni ambassador programs.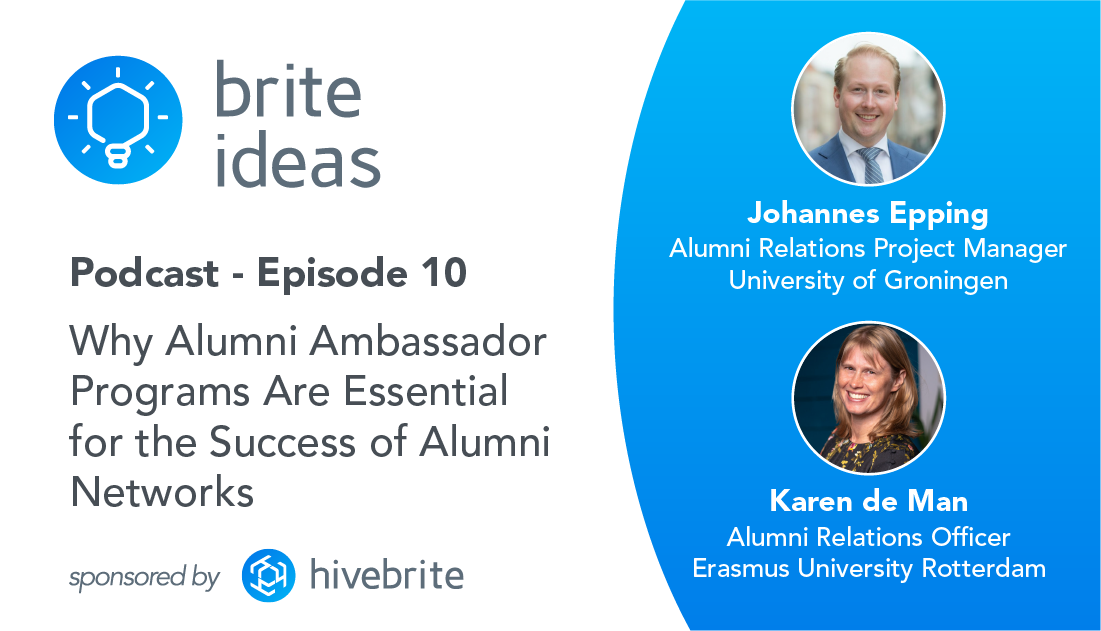 Listen as Karen, Johannes, and host, Sandra Rincon, discuss:
Why ambassador programs are essential to growth and success
How to identify and cultivate ambassadors
How to incentivize ambassadors
How to empower and train ambassadors
How to evaluate the impact of ambassador programs
Three Brite Ideas for Building Successful Alumni Ambassador Programs
As with every episode, Karen and Johannes were asked to share three Brite Ideas each to sum up the conversion. Here are their Brite Ideas on how to build successful alumni ambassador programs.
Karen's Brite Ideas
Recruit genuinely motivated alumni and staff for your program. There needs to be good chemistry between both parties.
Set expectations on both sides (alumni and staff) and respect them throughout the program.
Share alumni stories far and wide. Don't hesitate to introduce and connect people.
Johannes' Brite Ideas
Offer your alumni and students the opportunity to be part of a peer group.
Give alumni and students the space to initiate their own projects within the program to help them feel even more invested in its success.
Your alumni are your representatives. Give them a platform to present themselves.
Listen to the podcast to discover more about these brite ideas and other topics discussed!
Hivebrite is an all-in-one community management platform. It empowers organizations of all sizes and sectors to launch, manage, and grow fully branded private communities. Schedule a demo today!