We are back with our #HBSuperhero series! This time, we spoke to Jeremy, Hivebrite's Head of Marketing! Discover his biggest challenge, greatest achievement, signature cocktail, and what he likes most about his role!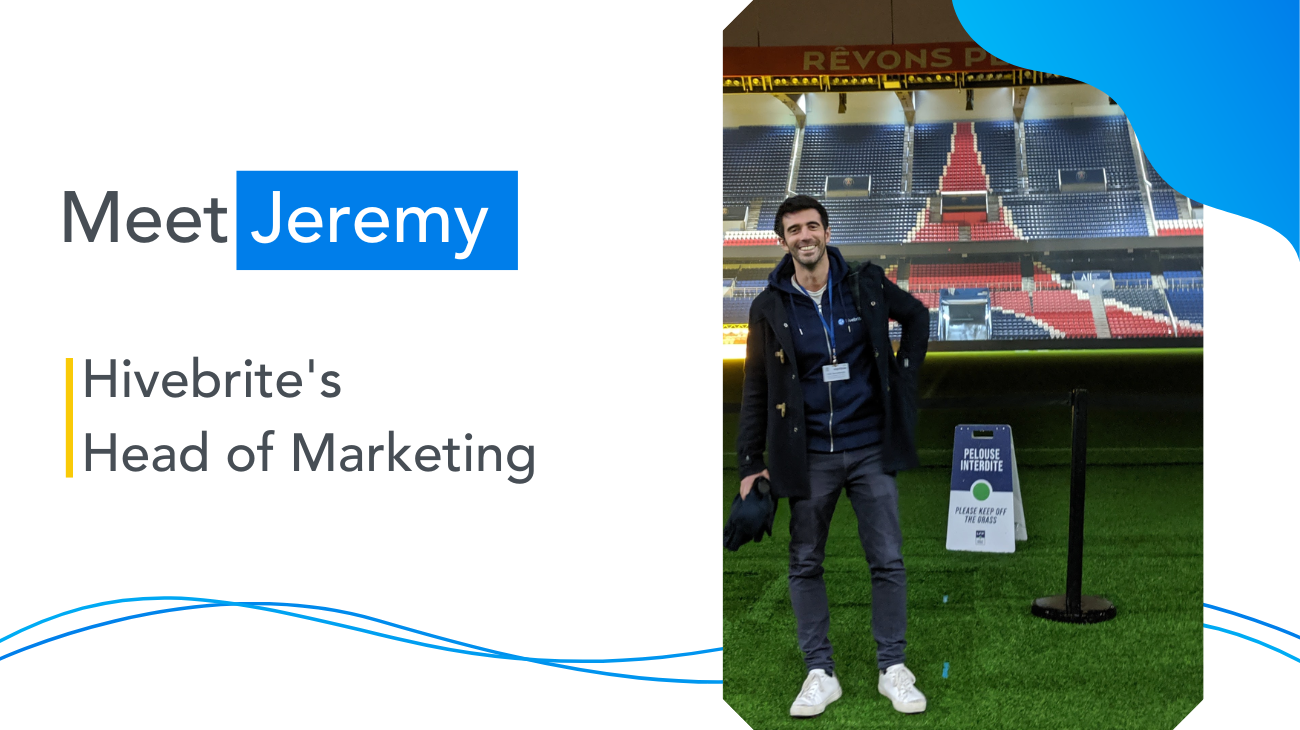 Hello Jeremy! Tell us more about yourself!
Hi all, I grew up in a small town near Paris.
I originally wanted to be an economist. After graduating, I headed to London to improve my English. Here, I worked in a cinema, as a club promoter and a bartender (espresso martini was my signature cocktail, in case you're wondering)!
During this time, I realized I wanted a career where I could use my creativity and my passion for numbers. I decided that marketing was the best way for me to combine these two worlds!
An opportunity at VistaPrint in Barcelona enabled me to learn the marketing ropes and kickstart my marketing career.
Outside work, I love to set myself sporting challenges and have run several half marathons and a full marathon. I also enjoy traveling and experiencing new cultures—my most recent trip was to Cuba! I have been a huge PSG fan since I'm 12 years old, but you probably already guessed that from my photo!
Why did you choose to work at Hivebrite?
I was Hivebrite's first marketing hire. The challenge of setting up a marketing department from scratch appealed to me!
Plus, during the interview process, I was impressed with the passion of the people I met. I wanted to join the adventure and work with these people!
What's your superpower at Hivebrite?
I'd say my superpower is that I'm the swiss army knife of marketing. I enjoy getting involved with projects from different fields of marketing—from paid campaigns and SEO to strategy and forecasting.
I also love working with data and analytics to ensure we make data-driven decisions.
Could you share with us one of your proudest Hivebrite moments?
I am proud of the marketing team we have built. I started on my own in 2019, and now we are six! We have created a growth marketing machine, doubling almost every year in terms of leads!
I also won Hivebrite's most recent poker night, which was no easy feat given the level of our poker players here, so it is definitely something I like to brag about!
Tell us something about Hivebrite that only insiders know.
Almost every organization can benefit from an online community. At Hivebrite, we power a diverse range of use cases across all sectors. We even support a community for barbecue lovers!
How would you describe Hivebrite's company culture?
Open-minded, international, progressive, and human.
What do you enjoy most about your role?
The variety of projects—no day is ever the same!
What skills have you developed in the role?
I have to work closely with other departments, especially Sales. This has helped me improve at putting myself in other people's shoes—understanding their challenges and priorities and working together to create sustainable solutions.
Thanks to our croissant tradition, I have also learnt the importance of laptop security. You can meet the creator of the tradition here.
What's the biggest challenge in marketing at the moment?
We can no longer rely on cookies to give information on potential prospects to help us optimize and personalize campaigns.
It is now critical to have a first-party data strategy. A first-party data strategy requires a solid action plan for collecting customer data, how that data is used to enhance the customer experience, and how the brand will earn consumers' trust over time.
We need to understand our audience, create a buyer journey with relevant and meaningful content and build trust.
What is the hottest marketing trend right now?
I would say automation and how marketers can use it to save time and improve the user experience (as long as it doesn't replace us)! Automation is especially powerful when combined with personalization—Spotify is an excellent example of this!
Chatbots such as Intercom can deliver instant quality answers. Email automation software sends only the most relevant communication to people based on preference and past behavior.
PPC automation software can take care of micro actions such as setting up bidding rules and optimizing keyword lists. Automating these tasks gives us more time to focus on strategy and other high-value tasks.
What advice would you give to someone looking to join Hivebrite?
Be curious.
At Hivebrite, your only limit is yourself. If you ask questions and want to try new stuff, nobody will prevent you from doing so as long as you explain your strategy and how you will measure the results.
Newcomers' opinions are incredibly valuable, as they have a fresh perspective on our current ways of doing things.
I would give precisely the same advice to someone looking to join the Marketing Team.
Ready for a new challenge? Check out our open positions here!
Want to discover more about life at Hivebrite? Meet Brenda, our Senior Product Designer, Ahmed, our Customer Success Manager, and Jerem, our Full Stack Developer.
Hivebrite is a comprehensive and flexible community engagement platform. It empowers organizations of all sizes and sectors to launch, manage, and grow fully branded private communities. Schedule a demo today!