Since 2015, we have been working with amazing organizations to help them create vibrant successful communities. And none of this would be possible without our most valuable asset: our team.
Our new #HBSuperheroes series will shine a spotlight on our people and tell their stories—exploring their life at Hivebrite, challenges, motivations, achievements, and more.
So If you are interested in joining us or just curious about how we work and the people who represent us, this is the perfect opportunity to find out more!
So without further ado, we would like to introduce you to Jerem, Hivebrite's Full Stack Developer.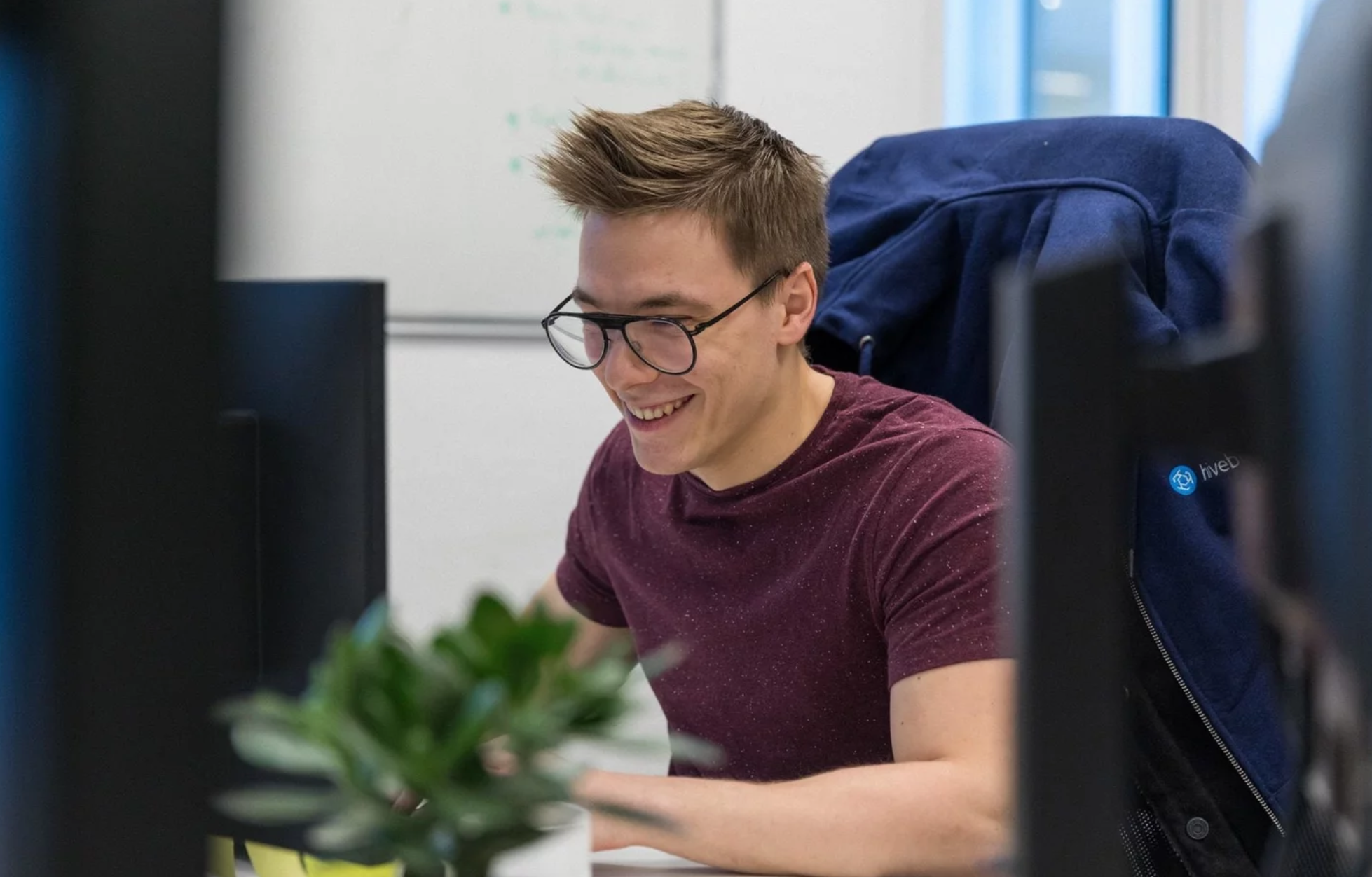 Hi Jerem, tell us about your background
Hello! I studied Computer Science and since graduating I have worked as a Full Stack Developer in several early-stage startups—they were always five people or less.
Before joining Hivebrite I was working in another city in the north of France and looking for a new challenge. I heard about the job offer through an old internship boss who is a childhood friend of a fellow Hivebriter!
I took the train to Paris for my interview and to meet the team. I almost instantly got a great feeling about Hivebrite—the people were very welcoming and I got the impression I could learn a lot! I accepted the offer and three weeks later I was living in Paris and ready to face this new exciting challenge.
I have been working here as a Full Stack Developer at Hivebrite for two years now!
What made you want to work at Hivebrite?
Two things in particular.
First of all, I was looking for a company where I could develop my skills but also learn more. I wanted to find a 'mentor' who would share their expertise and experience with me to help me grow professionally. I knew I would find this person at Hivebrite.
Finding an international company where I could speak English and meet people from other cultures was also important for me—and Hivebrite was a great match there!
What's your superpower at Hivebrite?
I am the leader of the portfolio squad! As the name suggests, our squad works on Hivebrite's portfolio feature. The portfolio feature is where community members can showcase their work.
We are working on making this feature, even more, user-friendly! At the moment the portfolio page shows everyone's portfolio! But were working on making recommended content—including videos, images, documents—based on the preferences of each member!
We are also working on some other really exciting features, but I can't talk about that now ;) !
I really enjoy managing my squad and helping them refine and build on their skills! I've learned so much over the past two years and I'm very proud of the progress I have made.
What motivates you to come to work?
Easy.
I am working with very talented people, so I am learning and improving every single day—this is really important to me!
I feel at home when I go to work. There is a real family spirit. There's no such thing as a stupid question, no one judges you, and there is no unnecessary pressure—I think this is something really rare.
How has Hivebrite's product challenged you?
Hivebrite is a huge project compared to what I had before, it has a lot of code lines or tables so it took time to get to grips with this new architecture.
It challenged me at the beginning that I sometimes felt like an impostor. But I got more confident in the following months. The team is a really supportive and open bunch—everyone is willing to help you, no matter how many questions you might have to ask!
How have you seen this company change in the two years you've been here?
The company has changed a loooot! We were only 15 people when I started. Now we are 73! New people are regularly joining! We are really focused on reinforcing our different teams!
We opened our New York office last year and moved to a bigger office in Paris, a very cool one I might add!
Internal communication and processes have evolved, sometimes things can take a bit longer, but this is necessary to properly scale! We're also seeing the impact of our work! We've signed big clients such as the University of Notre Dame, WWF, and NYSE
Tell us something outsiders don't know about Hivebrite
We are an international company with our HQ based in France, but not many Parisien work here!
Also, before the pandemic, we spent a lot of time together outside of work—afterworks, Mario Kart competitions, and other cool get-togethers including a raclette night that made the office smell like cheese for a week!
How would you describe the company culture?
I know it might sound cliché, but it's true—Hivebrite is a family. We listen to each other and look out for each other! When there are issues or disagreements we work together to solve them. It's cool because at Hivebrite you don't feel like just a resource. You feel valued and part of a team Hivebrite cares about doing the best for you so you can also be the best for the company.
What advice would you give to someone wanting to join Hivebrite's Dev Team?
Don't hesitate to apply if you see a position that interests you! Even if you don't have the exact skill set and experience! We greatly value motivation and a can-do attitude! We want people with initiative and the motivation to grow!
If you are looking for a rewarding and challenging opportunity, today is your lucky day! We're hiring!
Would you like to know more about Hivebrite, our company culture, or great employees?
Our #HBSuperheroes series has just started and we will bring more real stories very soon.
Stay tuned!
Hivebrite is an all-in-one community management platform. It empowers organizations of all sizes and sectors to launch, manage, and grow fully branded private communities. Schedule a demo today!