We are back with our #HBSuperhero series! This time, we spoke to Ahmed, Hivebrite's Customer Success Manager! Keep reading to discover more about Ahmed's role, his biggest achievement, daily life at Hivebrite, and more!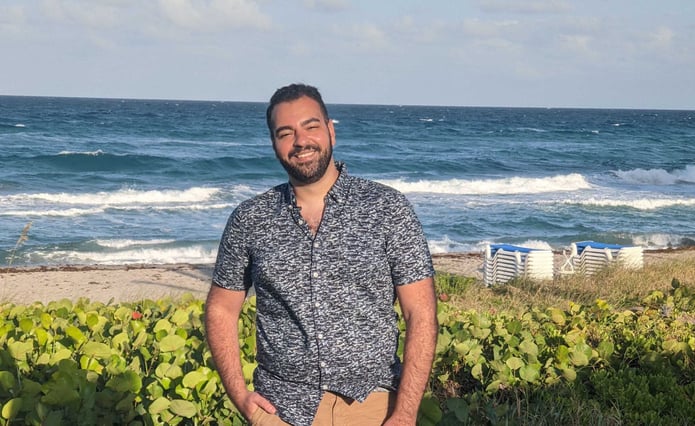 Hello Ahmed, could you tell us more about yourself?
I graduated in 2014 but have been working in support roles since 2009, when I first started college.
I worked for a course management system during my early years in support. I then moved to Livefyre, a martech startup. I worked here for about a year before Adobe acquired the company, and I worked there for three years before heading to Hivebrite.

Initially, I joined Hivebrite as a Senior Support Engineer and then moved to be a Customer Success Manager, which I'd wanted to do before joining Hivebrite.
Why did you choose to work at Hivebrite?
After Adobe, I wanted to try something new, so I interviewed to become a Customer Success Manager. That's when I came across Hivebrite. I enjoyed exchanging with each person during the interview process. I was particularly impressed by the team's passion for the community industry and expertise.
The company had about 35 employees at that time and I was one of the first employees in the USA office. I made sure to ask about the company culture since that is a very important factor to me.
As a smaller company with a great culture, Hivebrite attracted me very much and that's why I ended up joining the team as a Support Engineer at first despite initially looking to become a Customer Success Manager.
It feels like I've only been with the company for a month even though I've been here for over two and a half years. Hivebrite seeks to continually innovate its community engagement platform, so there are always new things to discover. The environment is fast-paced and I'm learning every day, which is fantastic.
What does a typical day with the Customer Success team look like?
When I started on the support team, a typical day consisted of opening emails, checking the tickets, and answering them. It was pretty standard.
My days as a CSM (Customer Success Manager) are very varied. Some days I have meetings with clients to discuss challenges, feature requests, or any other discussions regarding the product. Other days, I'm just digging through emails and responding to different kinds of client queries.
My favorite part of the day is meeting with the clients. I genuinely enjoy connecting with them over calls and getting to know them. You don't always get this level of interaction when working in support and it's one of the main reasons I wanted to become a CSM in the first place. I love discovering more about my clients and supporting their community goals.
What's your superpower at Hivebrite?
A lot of people trust me when it comes to technical topics - APIs, White Label URLs, or other complex technical aspects that are challenging. I suppose I am one of the most technical people on the Customer Success Team.
Could you tell us about one of your proudest moments at Hivebrite?
I was in a completely new world when I became a CSM. Gonzalo, our Chief Customer Officer, trusted me right off the bat and assigned me to one of our biggest clients.
This made me feel valuable and boosted my confidence in my abilities as a CSM. It was undoubtedly one of my proudest moments since I was entrusted with one of our largest clients.
What would you suggest to communities seeking better engagement?
There is no single, easy answer.
It's always different for different clients.
But the biggest piece of advice I would give is to ask yourself: What is the purpose of your community? What do you want members to take away from your community platform?
It is important to identify goals for the community and take actionable steps to achieve them.
Once you define the community's purpose, find ambassadors within the community. Your community ambassadors are your most active members who are most aligned with your purpose. They help spread the vision of your community, bringing other members onboard while sharing their time, insights, and advice to support your success.
What is the company culture at Hivebrite like?
I mean, it's awesome. That's the first thing that comes to my mind. It's a global company that understands how to communicate with everyone across language and cultural barriers.
There are many things that I appreciate about Hivebrite, but if there's one thing that we do best, it's that we hire the right people. As cliche as it sounds, we're like a big family.
When we visited Paris recently for a team off-site. Some people had never met each other face to face before and others had not seen each other for a long time. Despite this, everyone clicked. Everyone is kind, welcoming, understanding, and honestly super talented.
Could you tell us one thing about Hivebrite that outsiders don't know?
I think that Hivebrite is as old as it is.
The company is about ten years old, and it was called KIT United (Keep In Touch) before this.
There was no US presence until 2018, and then in the past four years, it grew exponentially. We now work with Princeton Alumni Association, Girl Up, the American Bar Association, NYSE, and many other prominent organizations.
What advice would you give to someone who wants to join the Customer Success Team at Hivebrite?
Be yourself. As long as you're open-minded and appreciate diversity - I think you will find a great place at Hivebrite.
Everyone from the team has a diverse background with different talents, ideas, and knowledge that make us better as a team.
Everyone's thinking is slightly different, but everyone is open-minded to new perspectives.
Ready for a new challenge? Check out our open positions here!
Want to discover more about life at Hivebrite? Meet Brenda, our Senior Product Designer, Dhia, our Customer Success Manager, Erica, our Account Executive for Europe, and Jerem, our Full Stack Developer.
Interested in a career at Hivebrite? Click here to see our open positions.
Hivebrite is a comprehensive and flexible community engagement platform. It empowers organizations of all sizes and sectors to launch, manage, and grow fully branded private communities. Schedule a demo today!