We are back with our #HBSuperhero series! This time, we spoke to Jeff, Hivebrite's Information Security Officer! Discover more about Jeff's role, his proudest moments, "croissanting" colleagues, and more!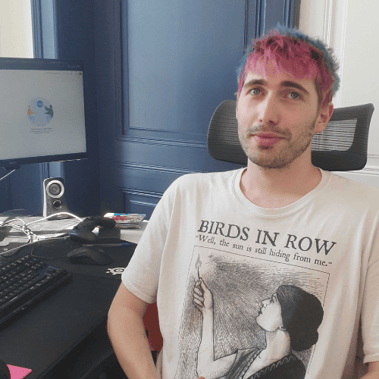 Jeff, it's not every day we get to interview an Information Security Officer! Tell us more about your story!
I'm originally from Nice, a city in the south of France on the French Riviera. I studied engineering and majored in cyber security, cryptography, privacy, and networking.
In the last year of my degree, I did a one-year apprenticeship as a Backend Developer at SecludIT, a cyber security software company. I went on to work at SecludIT for two years as a full-time Backend Developer.
At that time, I was living in Sophia-Antipolis, near Nice. In Sophia-Antipolis, there were regular meet-ups between developers from the city—everyone would gather for coffee and insightful exchanges.
This is where I met Maxime, our Senior Developer and eventually met Flo, our Head of Data, and Jean, our CEO. They were looking to hire a Backend Developer and we started having some exciting conversations. Things went well and I ended up being hired!
I worked remotely for a year and then moved to Paris. My move also brought me closer to another one of my passions: the punk music scene! I organized several punk concerts in Paris— some of which were attended by Hivebrite team members.
I've now been at Hivebrite for five years. I started as a Backend Developer. I gradually moved to Site Reliability Engineering and then worked as the Technical Product Owner. Now I am working as Hivebrite's Information Security Officer.
Why did you choose to work at Hivebrite?
I was ready for a new challenge. Before working at Hivebrite, I had only worked for one other company. So I was also curious to see what it was like working elsewhere.
I was eager to discover a new team and a new product. I was impressed by the product from the beginning; it was immense and more interesting than the product in my previous role.
I'm very happy at Hivebrite in terms of personal and professional growth.
What's your superpower at Hivebrite?
Not sure if I can call it a superpower, but I like to think that I create a positive atmosphere in the office.
I am easy going and enjoy getting to know all team members. Plus, I have brightly coloured hair making me easy to spot from afar!
I also invented Hivebrite's infamous "croissant" tradition—more on this later!
Could you share with us one of your proudest Hivebrite moments?
I arrived at Hivebrite "three offices" ago. When I first started, there were only ten of us and the product had fewer features than it has today.
Today we have more than 150 collaborators, offices in multiple countries, and a product with incredible features. It's inspiring to reflect on our journey and everything we have achieved.
Another one of my proudest moments is bringing our Chief Revenue Officer to a punk concert I organized!
How would you describe Hivebrite's company culture?
Everyone I met five years ago is still a friend today. Hivebrite is a company where people stay for the long haul. I've seen people marry, have kids, buy homes, and move to another country, all while working at Hivebrite.
We have a lot of benefits for employees and a flexible remote policy.
We can openly discuss our challenges with colleagues and work together to develop solutions.
I genuinely believe that we have created something special here at Hivebrite.
Why is protecting and properly treating member data more critical than ever?
We have witnessed an increase in ransomware attacks on companies since the Covid-19 pandemic began. These attacks encrypt companies' data, forcing them to pay to access their own data.
Losing access to data is still manageable, but the worst thing is when this data is disclosed to the public. Data must always be protected.
The first thing to remember is that you need to be in control of your data.
Protecting end-user data is crucial for private online communities—it's vital for building a safe and secure online space where trust can grow and members feel comfortable participating.
Find out more about how Hivebrite protects member data here.
You're the flagbearer of the infamous croissants tradition at the office! How and why did you start it?
Haha, the infamous croissant tradition started at my previous company. I brought it to Hivebrite four years ago because people need to be careful with their devices. If you don't lock your device, anyone can extract any data from your computer.
As of today at Hivebrite, if anyone steps away from their laptop without locking it, they get "croissanted" and have to bring croissants to the office for everyone!
Could you share a simple security practice that many people overlook?
Use a multi-factor authentication tool (MFA). When you log in on any website, an MFA tool provides another passcode that will add an extra layer of security to your accounts. This passcode is usually a six-digit code sent to your smartphone.
You can use a free tool like the Aegis Authenticator to do this. The app will provide you with a code that will protect your accounts from being easily hacked.
Apart from this, don't take calls discussing sensitive information in public.
What advice would you give to someone looking to join Hivebrite?
Be clear about what you want to do. If you know what you want to do but don't perfectly fit the role that you are applying for, that's ok. Talk to us and let's figure out if we can adapt the role to your skills and aspirations!
Ready for a new challenge? Check out our open positions here!
Want to discover more about life at Hivebrite? Meet Brenda, our Senior Product Designer, Dhia, our Customer Success Manager, and Jerem, our Full Stack Developer.
Hivebrite is a comprehensive and flexible community engagement platform. It empowers organizations of all sizes and sectors to launch, manage, and grow fully branded private communities. Schedule a demo today!