Our #HBSuperheroes series is designed to give you a glimpse of life at Hivebrite! In each interview, we explore the stories, motivations, challenges, and achievements of a Hivebrite team member!
In this latest interview, we met Dhia, one of our Customer Success Managers.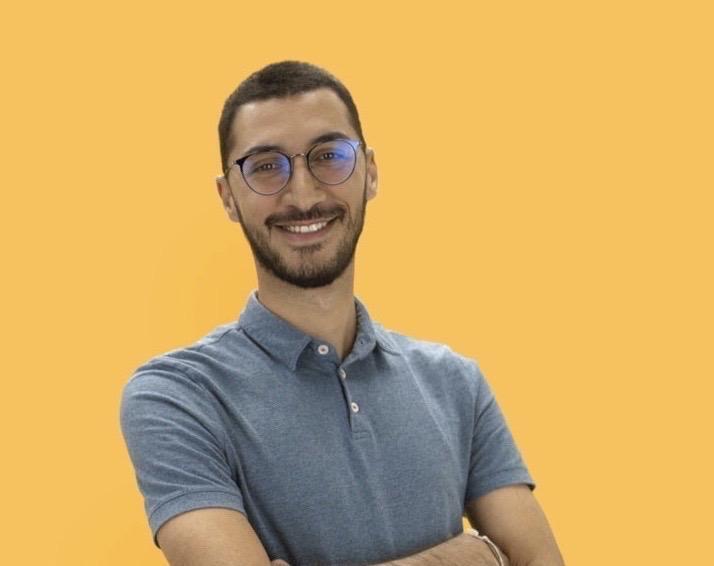 Hi Dhia, please tell us a little more about your background!
Hi there! I have an Engineering Degree in Industrial Biology, I completed a one year Masters experience in Genomics in Canada, and I took part in an exchange program in the U.S where I majored in Business Administration.
I would say that on paper, I have quite an atypical background for a Customer Success Manager! However, all of these experiences help me immensely in my day to day life at Hivebrite!
My Engineering Degree had a large part focused on acquiring cross-disciplinary skills (marketing, corporate law, economics, project management, communications, etc.).
My exchange program helped me globalize myself, broaden my interpersonal skills, boost my confidence when facing new challenges, and gain a whole new education in project management and business communication.
My Genomics helped me dive deeper in understanding and manipulating the newest technologies that we now hear about on TV (mRNA vaccines, CRISPR-Cas9 gene-editing tools, etc.).
What made you want to work at Hivebrite?
I was the president of an international community for young leaders and professionals. I really enjoyed the experience—getting to know the different members, their goals, and figuring out how to help them. I decided I wanted to do this on a larger scale.
When I saw Hivebrite, I immediately thought, "this is a perfect fit". I'm a people person. I love talking to people, discovering my clients' community goals, and figuring out how to achieve them with the Hivebrite platform. I work with so many incredible communities, and I am always immensely proud when I see a community succeed.
What's your superpower at Hivebrite?
Having already worked as a Community Manager means I can really put myself into our customers' shoes!
I am also quite techy, which really helps with client questions around API workflows and email privacy questions.
What's a typical day as part of the Customer Success team?
I like starting my day with a coffee while checking and prioritizing my emails.
I talk with clients daily. The frequency I meet with each client depends on their size and needs!
For instance, I have big clients that I meet at least once or twice every week and then others that I see every two weeks or just correspond with by email.
After each call, the follow-up work starts, where I need to find answers and solutions to our customers' challenges.
Tell us about some of your most significant achievements at Hivebrite?
When I arrived at Hivebrite, I had zero experience in customer success management.
Previously, I worked in sales, so the client relationship lasted around two months—the time it took to close the deal. After clients were sent to the implementation team and I didn't speak to them again!
As a Customer Success Manager, the relationships with clients can last for years! One of my first achievements was to prove myself with my first clients and create long-term, meaningful relationships with them!
My management trusts me. They now give me major clients without doubts or questions. This makes me feel very proud of myself.
I have also become the go-to person for tech questions in the Customer Success team. I am delighted that I can use my engineering background to help the team in this area.
What advice would you give to someone starting an online community?
One of the first questions you should be asking yourself is: "Do I really need a community?"
To answer this question, you need to put yourself in the user's shoes and understand what they would want from your community.
If you truly need a community, the best advice would be to make sure your users see value from the moment they sign up. If the users don't see value straight away, they're not likely to come back.
A second critical piece of advice is to make sure that you align the community with your organization's goals.
How would you describe the company culture at Hivebrite?
I love how "human" Hivebrite is. This is a place where we feel comfortable talking about subjects like mental health and our company targets.
All employees are genuine and understand everyone's different backgrounds and cultures, creating a great working environment.
What advice would you give to someone joining Hivebrite's Customer Success Team?
My advice would be to be as flexible as possible and not be afraid to innovate and put your own touch on things.
We are growing fast, we are now a scale-up, not a startup anymore, and a "newcomer's view" is very valuable for helping us spot areas of improvement that we don't necessarily see!
And finally, don't wait for people to tell you what to do—take initiative!
Ready for a new challenge? Check out our open positions here!
Hivebrite is a comprehensive and flexible community engagement platform. It empowers organizations of all sizes and sectors to launch, manage, and grow fully branded private communities. Schedule a demo today!