We are back with #HBSuperheroes—a series of interviews designed to give you a glimpse of life at Hivebrite by exploring the stories, challenges, motivations, and achievements of the people who work here! In this latest interview, we talk with Erica, our Account Executive for Europe, to discover more working in a fast-growing start-up's sales department!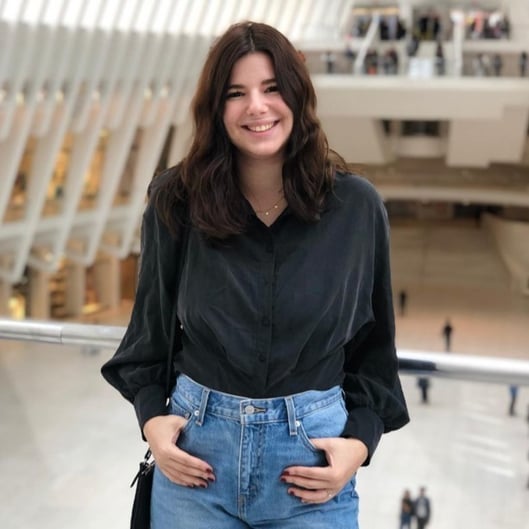 Hi Erica, tell us a bit more about your background.
I started out studying law, which is probably not the typical starting point for someone in sales—if a typical starting point even exists!. I didn't like law, so I moved to Berlin to work for a German start-up in the home improvement space doing business development in Italy and Spain. After a year, I moved to Dublin to work for Linkedin, first in sales development and then in relationship management before moving to Salesforce to work as an Account Manager.
I decided to change the law for sales because it is more people-oriented. In law, you spend a lot of time alone writing papers. I wanted to be in touch with people. At first, I thought it would be Marketing, and then it happened to be Sales and let me say I love it.
What's your superpower at Hivebrite?
I'm part of the Sales team in Europe as an Account Executive. My team would say that I am very warm and good at nurturing clients. I build relationships very fast with clients, so I would say that's my superpower at Hivebrite.
What was it about Hivebrite that made you want to work here?
When I decided to move to France, I was pretty apprehensive about finding a job. I feel so lucky to have ended up at Hivebrite.
I knew I wanted a smaller company with an international atmosphere. When I was at Linkedin or Salesforce, I concentrated on the Spanish and Italian markets. I always wanted to sell in English and to very different markets and organizations, so Hivebrite was a perfect match!
It's a great company; I feel like the leadership is very compassionate. Every action we make counts towards the company's overall success, and that's something that you don't often experience in very large organizations.
What motivates you to come to work?
When used positively, technology has the power to make a positive change in the world.
Hivebrite's technology brings people together to connect, share experiences, ideas, advice, and more to better the individual and the community as a whole. I feel very motivated knowing that we are empowering organizations to unlock the power of their communities.
What's a typical day as part of the Sales team?
I spend most of my day talking with prospects who want to know more about Hivebrite's platform. It's all about understanding their objectives, challenges, and what is important to them and then explaining and demonstrating how Hivebrite can help.
I love the diverseness of the calls. I could start the day talking with a company wanting to create a corporate community to increase boomerang hires and finish the day talking to a multinational non-profit wanting to create a community to manage its volunteers better.
Depending on days, I do other things: negotiation calls, scoping calls to understand prospect needs, or creating branded demos. I also collaborate with other departments such as Marketing, Customer Success, and Tech.
Tell us about one of your most significant achievements at Hivebrite?
I think the main achievement for me was coming from companies where I was just one part of the Sales puzzle to a company like Hivebrite, where I take care of the whole sales process from A to Z. From qualifying the lead to actually closing the deal.
What skills have you developed in the role?
I've improved my tech skills but also my soft skills. I've learned a lot about APIs and SaaS implementation frameworks and how to adapt my communication to work with clients from different industries and countries. Working at Hivebrite is very interesting because we see a bit of everything. We work with organizations of all sizes and sectors. It's great to see so many different things in just one place!
How would you describe the company culture?
I would describe it as genuine. Very genuine. People are themselves; they are spontaneous and authentic. This is something I really appreciate because it is also something that we demonstrate to our customers. Our product is what we show; we are very transparent, nothing is hidden, and the team must reflect this too!
Also, a good thing about Hivebrite as an expat is that everyone speaks English, even if it's a French company based in Paris. Hivebrite is a very international company, which is something that you don't always see. Just in the Sales team in Europe, we count French, Italian, American, and Australian nationalities. We bring different cultural perspectives to our work, making for an exciting and enriching environment.
Tell us something outsiders don't know about Hivebrite
If we think from the outside, there are a lot of misconceptions about software companies. Many people think that they are mainly composed of Marketing and Sales teams trying to sell something. Hivebrite is a real product orientated company. There has been a lot of quality work put into our product and it continues to evolve and improve, making the sales job so much easier.
What advice would you give to someone wanting to join Hivebrite's Sales Team?
I would say it's a fantastic opportunity, don't be afraid and apply. I understand that women are underrepresented in tech sales teams; however, Hivebrite offers a very welcoming and equal opportunity working environment.
You would be joining a very international, growing organization. We have set up for scaling this year and you would have the opportunity to work with very different use cases and clients, so if you are curious, value diversity, and want to learn, I think Hivebrite is the right place!
Ready for a new challenge? Check out our open positions here!
Stay tuned for the next interview in our #HBSuperheroes series! And in case you missed it, meet Jerem, our Full-Stack Developer, and find out more about Hivebrite's Dev team!
Hivebrite is a comprehensive and flexible community engagement platform. It empowers organizations of all sizes and sectors to launch, manage, and grow fully branded private communities. Schedule a demo today!