Fresh, regular, compelling content is a critical ingredient for community growth and member engagement.
The best community content puts members in the front and center. You want most of your content to be about them—addressing their problems, offering solutions, and inspiring them.
Here are eight ideas to kickstart and sustain your content creation!
1. AMAs
During an Ask Me Anything session, members can ask the host anything they want on a particular topic. AMAs are an excellent initiative to promote transparency, accessibility, and knowledge sharing.
Host an AMA session with a key community member, the community manager, experts, and inspirational people.
2. Share Curated Industry News
Offer members a weekly curated news roundup from your industry's top news sites.
Content curation is more than simply re-sharing other people's content, curation is a way to provide extra value to your members while highlighting your own industry expertise. For example, explain to members how news affects them (or how it might affect them).
3. Interview Remarkable People
Interview exceptional members or people related to your community. The latter could include entrepreneurs, change-makers, or subject matter experts.
You could also invite these people to author a guest column for your community!
4. Announce Community Events
Announce upcoming events directly in your community.
Create pre-event buzz by sharing interviews with participating expert speakers and asking members what they expect from the event and are most looking forward to. Include photos and feedback from previous events in your promotion (if relevant).
5. Spotlight Members and Their Stories
Encourage your members to share inspiring stories that can offer value to other members.
Ottobock Movao partnered with Hivebrite to create a community for amputees using its products.
The team running the community has created a stories page where community members share inspiring stories about their life: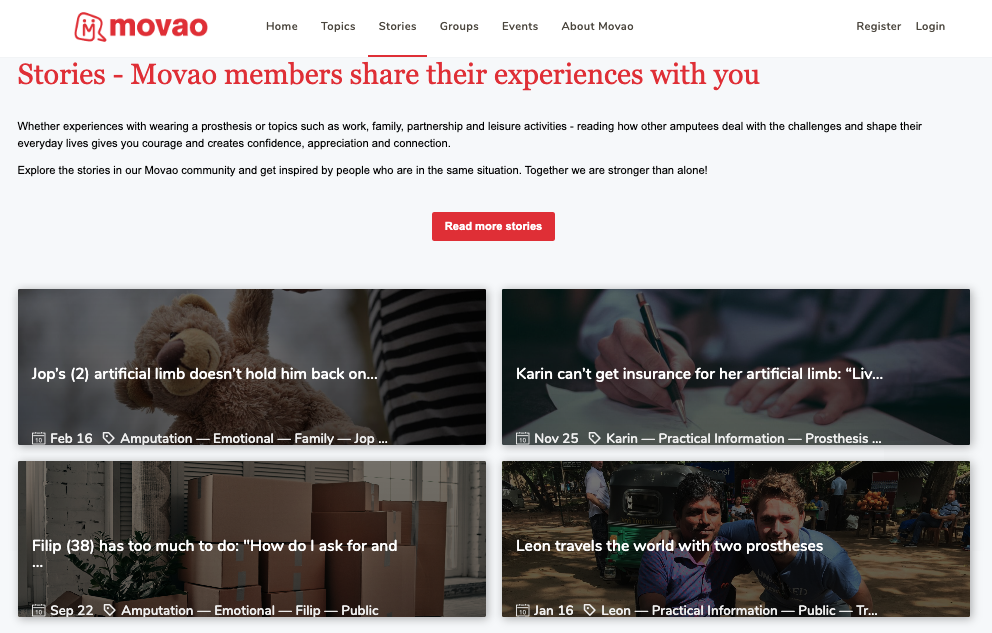 6. Celebrate Content Creation
Recognize and celebrate members who create content by highlighting their community profile or pinning their content to the top of your newsfeed—this will encourage others to get involved. You could even nominate a "member of the month"!
7. Share Career Opportunities
Create a virtual jobs board for your community and invite members to enhance their teams and careers by posting or applying for jobs. Encourage members posting job ads to write detailed descriptions and even offer job tips.
8. Organize Contests
Competitions can be a lot of fun and generate great content! You could even design a competition to crowdsource ideas ie: Help us choose the name of our new product line, and the best idea gets a prize!
For further content inspiration, download our guide, How to Create a Content Strategy for Your Community.
Hivebrite is an all-in-one community management platform. We empower organizations of all sizes and sectors to launch, manage and grow fully branded private communities. Schedule a demo today!