W
e are thrilled to share our fourth episode of Community Therapy, Hivebrite's new podcast that focuses on the experience of community managers.
Hosted by Hivebrite's Morgan Wood, this week's episode features community strategist and award-winning author, Carrie Melissa Jones. Join them as they discuss fear of failure, imposter syndrome (or imposter complex), and more.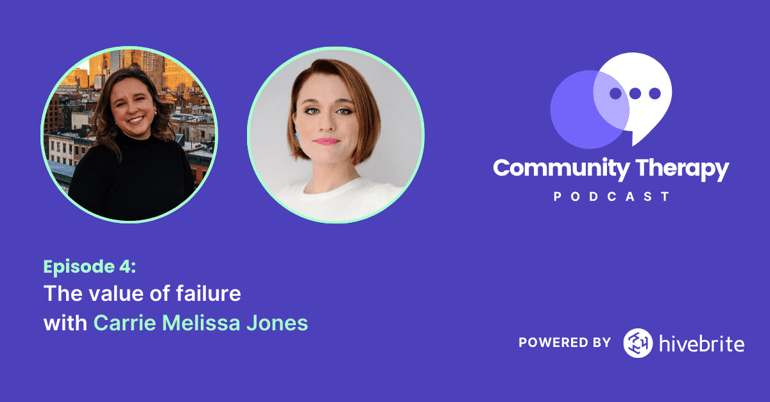 This week's Community Confession
We kick off each Community Therapy episode with an anonymous Community Confession from the audience. This week's confessor wants to know how to deal with feeling out of their depth:
"Dear Community Therapy,
Like a lot of community professionals, I kind of stumbled into my role. My fear of failure and my limited resources, among other things, have led my confidence to take a hit. I often find myself feeling like an impostor. Do you have any tips on how to deal with this and how I can be kinder to myself?"
Listen in as Morgan and Carrie tackle this question and talk about failure, leadership, and excellence in this week's episode.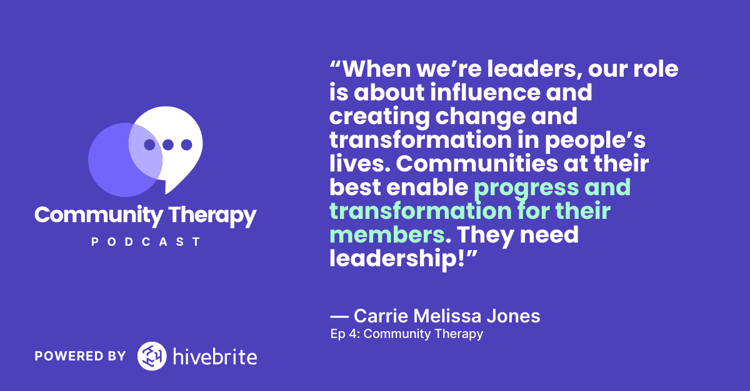 Other episode highlights:
On leveling up: "The transition from, 'I'm a community manager, I moderate my community,' to, 'I'm a digital leader, and this requires a different skillset'—that is a really big leveling up moment, when you decide that's what you're here to do."
On imposter syndrome (or imposter complex). "It's not a syndrome—that would be a mental health diagnosis, and it's not a mental health diagnosis. It's a complex, it's something that happens to all of us in different capacities, and there are layers of sexism, racism, and classism built into the imposter complex … a lot of times when we are feeling stuck in that complex, one of the reasons why we feel that way is because we value excellence."
On community building: "I actually think there are very few things in this work that are right and wrong, black and white."
Resources mentioned in the episode
Check out Carrie's blog The Blog and follow her on ⁠LinkedIn⁠.
We would love to know what you think of this episode and if you have a community confession you would like to be featured in a future episode, drop us a line at communitytherapy@hiverbrite.com or send us a voice note via SneakPipe.
Podcast Disclaimer
Please note that the "Community Therapy" podcast does not constitute professional therapy. While the podcast provides a safe space for community professionals to discuss challenges and seek practical advice, it is only for educational and informational purposes and should never replace medical advice or healthcare services.
Hivebrite is an all-in-one community management platform. We empower organizations of all sizes and sectors to launch, manage and grow fully branded private communities. Schedule a demo today!