Season one of Community Therapy, Hivebrite's podcast for community builders, wraps up with a lively discussion about how to manage communities as a team of one—and how to use AI to help you expand your reach.
This week, our host, Morgan Wood, is joined by Adrian Speyer, Vice President, Marketing and Community, for the Community Leaders Institute and the author of The Accidental Community Manager: A Guide to Building a Successful B2B Community.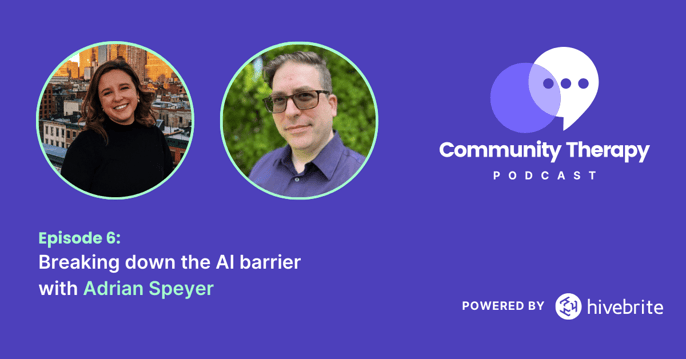 This week's Community Confession
We begin each Community Therapy episode with an anonymous Community Confession submitted by a listener. This week's caller is seeking advice on what to do with a job that feels too big for one person.
"Dear Community Therapy,
I'm a one-person community team and feel the pressure to wear all of the hats. I'm aware that this isn't reasonable or sustainable. Please, could you share some advice?"
Listen in as Morgan and Adrian discuss how to approach community management in a sustainable way, including how to set expectations and the importance of boundaries. They also talk about tools that can make a community manager's job easier—including new AI tools.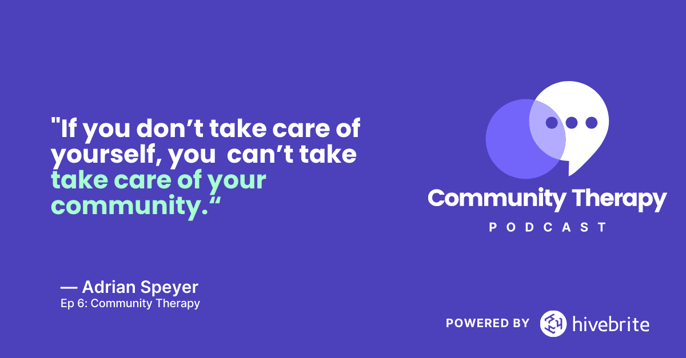 Other episode highlights:
On boundaries: "I'm a big advocate for balancing work and life in whatever ways you can. It starts with … setting good boundaries for yourself and your team, making it clear what is acceptable and what is not."

On reasonable expectations: "I think most people are reasonable, I don't think they're expecting [community managers] to be up at three in the morning. I think that's a pressure that we put on ourselves more than anything, as opposed to what an expectation is. I would say, if the expectation from your boss is that you need to be up at three in the morning answering community questions, then I would get my resume ready and get the heck out of there."

On AI: "Everyone's going to be impacted in every discipline. And I think really what it gets down to is knowing how to work with it."
Resources mentioned in the episode
Adrian's website to order his book, subscribe to his blog, and follow him on ⁠LinkedIn⁠.



We would love to know what you think of this episode and if you have a community confession you would like to be featured in a future episode, drop us a line at communitytherapy@hiverbrite.com or send us a voice note via SneakPipe.

Podcast Disclaimer




Please note that the "Community Therapy" podcast does not constitute professional therapy. While the podcast provides a safe space for community professionals to discuss challenges and seek practical advice, it is only for educational and informational purposes and should never replace medical advice or healthcare services.

Hivebrite is an all-in-one community management platform. We empower organizations of all sizes and sectors to launch, manage and grow fully branded private communities. Schedule a demo today!