In the fifth episode of Community Therapy, our podcast for community managers, host Morgan Wood is joined by community builder, coach, and author, Deb Schell.
This week, the conversation centers on the importance of speaking directly with your community members—and how community builders can feel more confident reaching out and asking questions.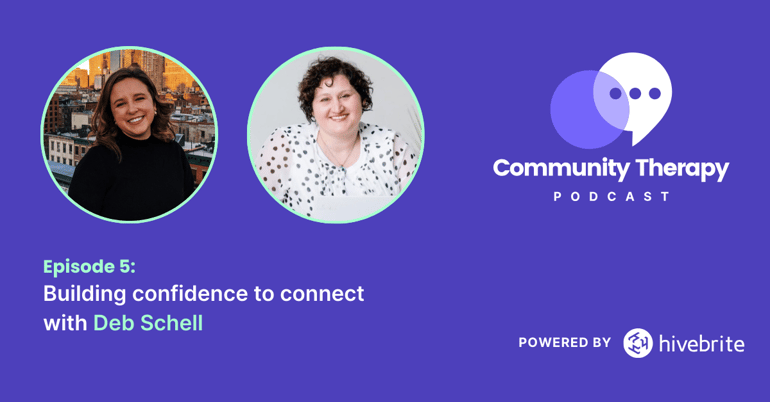 This week's Community Confession
We begin each Community Therapy episode with an anonymous Community Confession submitted by a listener. This week's listener is seeking advice on managing a community that seems unengaged and disparate in its interests.
"Dear Community Therapy,
I'm running a community for entrepreneurs, and I have two major challenges. One, they seem to be a busy bunch, as the community overall engagement is quite low. And two, they have diverse interests, and it's tricky to find common ground that appeals to all the members of the community."
Listen in as Morgan and Deb discuss this week's Community Confession, tackling community engagement and the necessity of getting feedback directly from your community members. They also give their best tips on how to connect with community members to get that feedback—and feel confident doing it.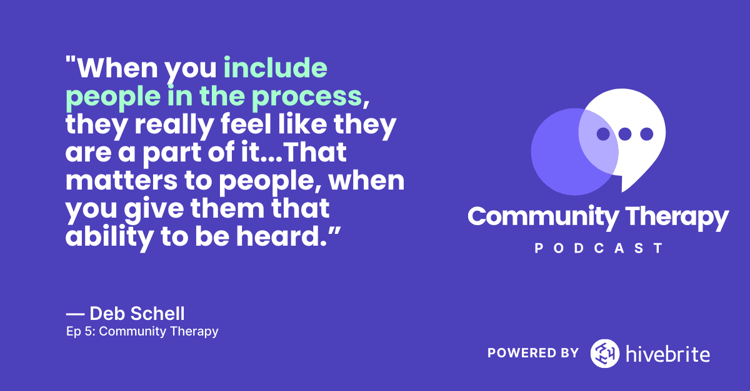 Other episode highlights:
On creating something purposeful: "To create something that's purposeful, you have to build relationships with people."

On keeping promises: "Community is about impact. Are you really giving the members what you promise them? If you're giving them a promise of, "we're going to help you with X," are you helping them with X?"

On conversation starters: "If you ask people about their thing, they love to tell you about their thing."
Resources mentioned in the episode
Check out Deb's consulting business Find Calm Here and follow her on ⁠LinkedIn⁠.
We would love to know what you think of this episode and if you have a community confession you would like to be featured in a future episode, drop us a line at communitytherapy@hiverbrite.com or send us a voice note via SneakPipe.
Podcast Disclaimer
Please note that the "Community Therapy" podcast does not constitute professional therapy. While the podcast provides a safe space for community professionals to discuss challenges and seek practical advice, it is only for educational and informational purposes and should never replace medical advice or healthcare services.
Hivebrite is an all-in-one community management platform. We empower organizations of all sizes and sectors to launch, manage and grow fully branded private communities. Schedule a demo today!