W
e are delighted to share the second episode of Community Therapy, Hivebrite's new podcast about community building and community builders.
The second episode of the six-part season features strategist and community leader, Nikki Thibodeau. Join Nikki and host Morgan Wood as they discuss the importance of taking care of yourself first so that you can take care of your members.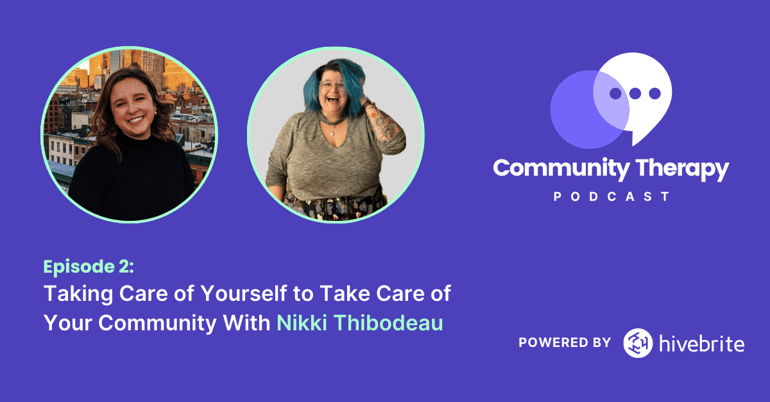 This week's Community Confession
This episode's audience-submitted Community Confession explores how community managers can deal with being seen as de facto community representative:
"Dear Community Therapy,
As the manager and 'face' of my community, I feel like I have to be the voice for all. I am often expected to speak on behalf of entire groups - something that I really don't feel comfortable with.
Any advice on how to deal with this?"
Listen now to hear Morgan and Nikki's advice for being a sometimes reluctant voice of a community.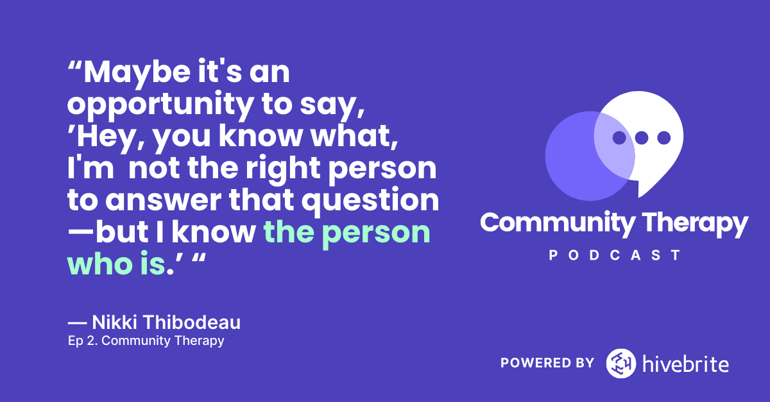 Other episode highlights:
On needing to set your own boundaries: "Forget everyone else, start with you. What is it that you need to make sure that you're healthy enough to continue in your role?"

On bringing your whole self to work: "It's okay to have things that belong to you and don't belong to the job."

On sharing the spotlight: "I don't have to represent everyone. I do have to accurately represent myself and uplift other voices."
Resources mentioned in the episode
Check out Nikki's work in the The Community Community and follow her on ⁠LinkedIn⁠.
We would love to know what you think of this episode and if you have a community confession you would like to be featured in a future episode, drop us a line at communitytherapy@hiverbrite.com or send us a voice note via SneakPipe.
Podcast Disclaimer
Please note that the "Community Therapy" podcast does not constitute professional therapy. While the podcast provides a safe space for community professionals to discuss challenges and seek practical advice, it is only for educational and informational purposes and should never replace medical advice or healthcare services.
Hivebrite is an all-in-one community management platform. We empower organizations of all sizes and sectors to launch, manage and grow fully branded private communities. Schedule a demo today!