We are delighted to launch "Community Therapy". A podcast that offers a fresh and authentic deep dive into community building with industry experts.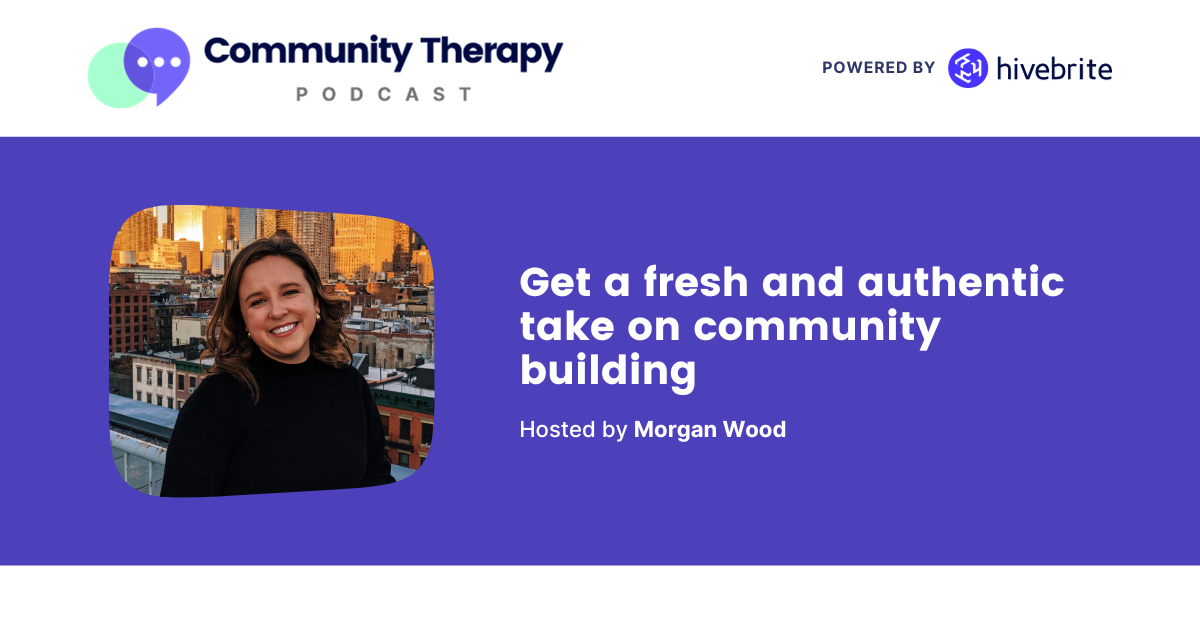 In an era where community has become more critical than ever, "Community Therapy" is an invaluable resource to support community professionals navigating the exciting yet increasingly complex world of community building.
Authentic Conversations Between Community Thought Leaders
The podcast goes beyond surface-level discussions to provide a safe, judgment-free space where industry thought leaders candidly discuss the real issues they face, share personal experiences, and offer practical advice that listeners can apply to their own communities.
An All-Star Lineup
Hosted by Morgan Wood, Hivebrite's Community Development Specialist, each episode discusses an audience-submitted community-related confession.
"I'm thrilled to host "Community Therapy"—a podcast that delves into the real, raw, and often challenging aspects of community building. We know that it's not always easy, but we believe that we can all learn and grow together as an industry by acknowledging and addressing the struggles and dilemmas.
We hope to create a safe and welcoming space where community professionals can find practical solutions, share their experiences, and connect with others who understand their unique challenges.
Listeners can join us for authentic discussions, thought-provoking insights, and actionable strategies to help them overcome obstacles in their community-building journeys."
Morgan Wood, Revenue Enablement and Community Development Specialist, Hivebrite
Listeners will be able to explore topics such as building confidence, balancing the expectations of members and business leaders, breaking down the AI barrier, and more. Season one's guests include Carrie Melissa Jones, Christina Garnett, Deb Schell, Jenny Weigle, Nikki Thibodeau, and Adrian Speyer.
Listen to season one now on Spotify.
Podcast Disclaimer
Please note that the "Community Therapy" podcast does not constitute professional therapy. While the podcast provides a safe space for community professionals to discuss challenges and seek practical advice, it is only for educational and informational purposes and should never replace medical advice or healthcare services.
Hivebrite is an all-in-one community management platform. We empower organizations of all sizes and sectors to launch, manage and grow fully branded private communities. Schedule a demo today!