W
e are excited to share the third episode of Community Therapy, our new podcast that centers the community manager experience.
Hosted by Hivebrite's Morgan Wood, this week's episode features community strategist and experience architect Jenny Weigle. Listen in as they dig into the skills that community managers have, the skills they hone in the course of performing their jobs, and how those skills can help them grow in their careers.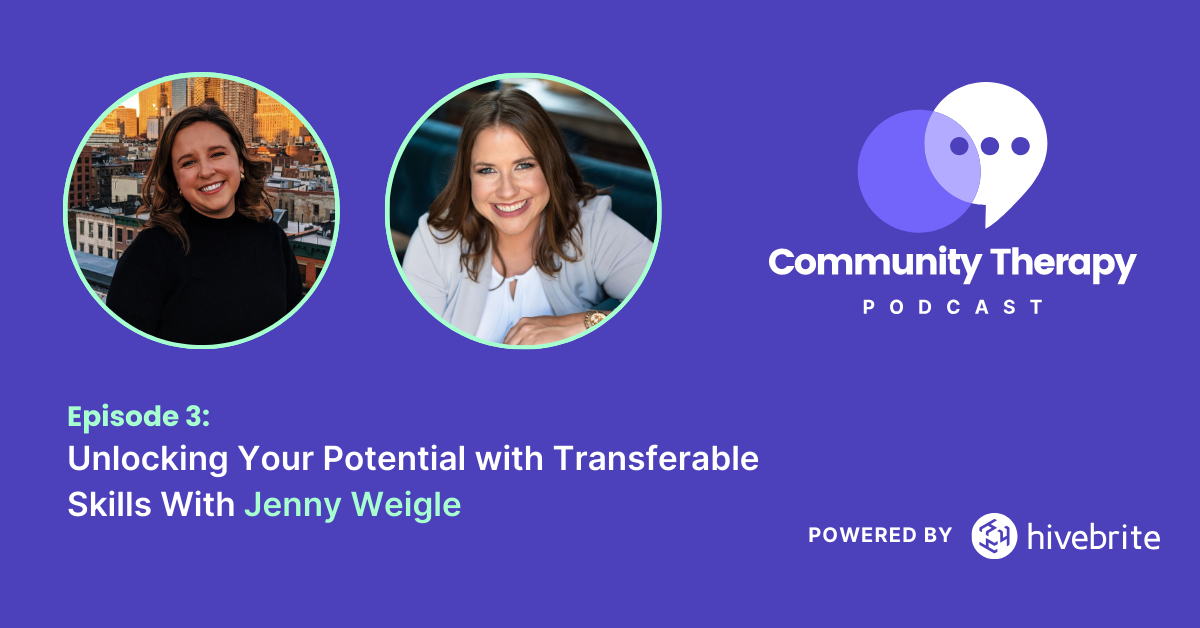 This week's Community Confession
Each Community Therapy episode opens with an anonymous question from the audience about community management. This week's confessor asks how to level up their event-management skills, fast.
"Dear Community Therapy,
I've been finding myself dealing with a lot of additional tasks due to layoffs at my job. For example, I've been asked to take on the event manager role too, something I have very little experience in. Any advice and how I can get good at hosting events—and quickly?"
Listen now to hear Morgan and Jenny discuss how event management and community management overlap, and why they think that this listener likely already has the skills they need to excel in their updated role.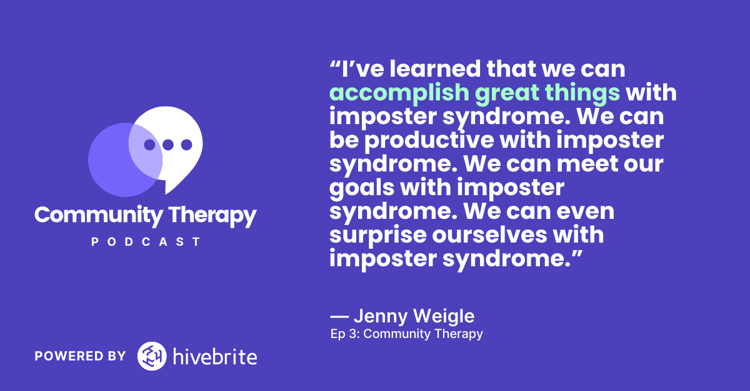 Other episode highlights:
On what makes a good event: "It's something that is a valuable and memorable experience for your attendees."
On the key to planning a good event: "Understand the audience that will be attending, and put yourself in their shoes."
On the many community managers who also run events: "You're wearing all of the hats at once."
On setting the stage: "When people enter, having a warm and welcoming space, whether that's in a virtual room or in a physical room, is super important."


Resources mentioned in the episode
Check out Jenny's blog All-Things-Community and follow her on ⁠LinkedIn⁠.
We would love to know what you think of this episode and if you have a community confession you would like to be featured in a future episode, drop us a line at communitytherapy@hiverbrite.com or send us a voice note via SneakPipe.
Podcast Disclaimer
Please note that the "Community Therapy" podcast does not constitute professional therapy. While the podcast provides a safe space for community professionals to discuss challenges and seek practical advice, it is only for educational and informational purposes and should never replace medical advice or healthcare services.
Hivebrite is an all-in-one community management platform. We empower organizations of all sizes and sectors to launch, manage and grow fully branded private communities. Schedule a demo today!