Social media platforms like Linkedin and Facebook can seem like good ideas when launching your community. After all, they are free and pretty easy to get started with!
But they might not be the best long term option if you want your community to thrive.
Gin Stephens founded Delay Don't Deny, a community of intermittent fasters, on Facebook. To better scale and facilitate more meaningful engagement, she decided to move her community to Hivebrite's private community engagement platform.
Watch our one-hour webinar reply with Gin and discover more about why she moved her community to a private platform, how she ensured members moved with her, and what she would have done differently. Click the button below to watch the complete webinar or keep reading to discover some of the main takeaways!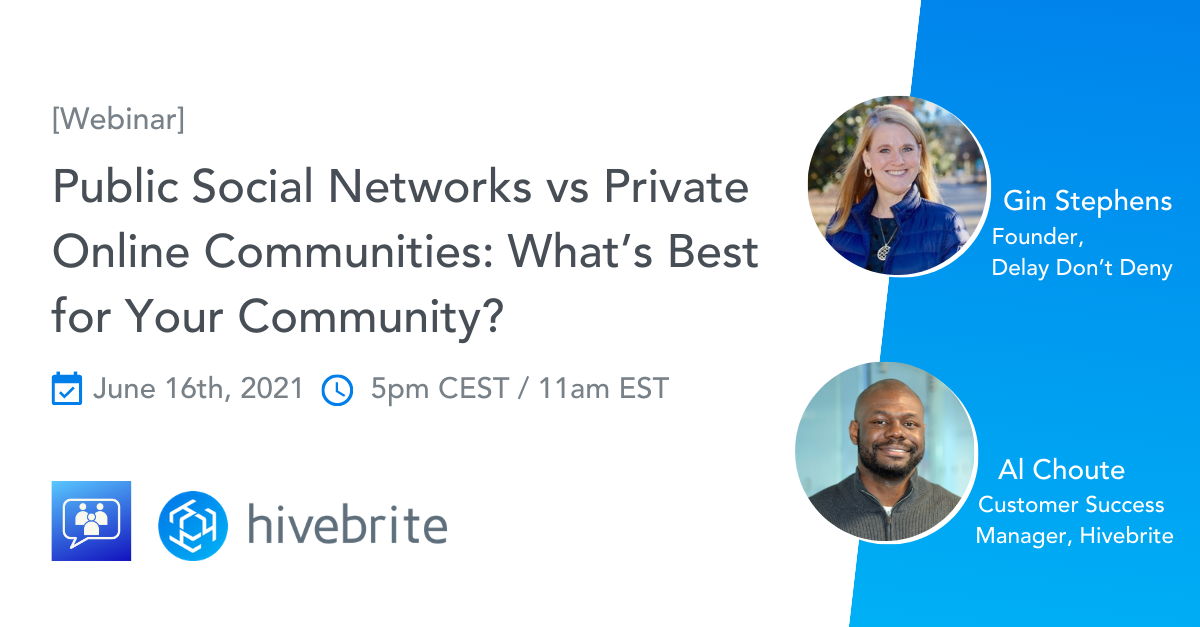 Understanding and Communicating the "Why"
It's normal to be apprehensive about moving your community to a new platform—it's stepping into the unknown! Gin worried that members wouldn't follow her to a private community space and would refuse to pay for something that was once free.
To overcome this, Gin made sure members understood why the community needed to move to a private community platform and the benefits that the new platform would bring!
She spent a lot of time designing the new community and deciding how to provide value.
People needed a reason to come over to the new space—the new platform needed to offer extra perks. In Delay Don't Deny's case, the private community provides exclusive content, direct contact with Gin, and more!
Previously, moderating posts in the Facebook groups took most of the team's time, leaving them with little time to concentrate on the community strategy. They decided to change the Facebook group settings so that members were no longer able to post. This gave members another reason to switch to the private platform where they would have the ability to post and interact with other members.
It's Doesn't Have to Be Either Or
You don't always have to choose between a social media platform and a private community platform. The Delay Don't Deny Facebook group is still open as the freemium model of the community.
The Facebook group offers people just the right level of access to content to get a feel for the community—moderators share inspiration and answer questions on specific days. However, if people want to enjoy the full benefits of everything the community offers, they must upgrade to a paid membership on the private platform.
Groups: Start Small and Grow
Gin and her team of moderators created sub-communities on the Hivebrite platform around different topics they knew would interest the community.
The team then populated the different sub-communities with content and discussion topics before inviting all members to join. This way, no one would "walk into" an empty room and have to get the conversation going entirely by themself.
Remember, when creating groups in your community, it's better to start with a small number of groups and add groups as engagement grows.
Breaking the Habit and Learning Something New
Getting into the habit of using a new platform is not easy—especially when people have been in the habit of using Facebook.
Facebook's algorithms decide what content will be displayed in your newsfeed. This trains us to passively consume content and endlessly scroll. Plus, as the algorithms decide who sees what, posts have a limited reach. Gin noticed that a fraction of her community hadn't even viewed important posts shared on Facebook.
Private community platforms don't work like this.
Sure, you can suggest content to members based on their interests. But it's the member who is in charge.
You need to teach your members how to actively seek content that interests them. They need to be aware of the different groups and upcoming events. They also need to understand the various community features available to them and how they can contribute to the community.
Other Lessons Learnt
Gin explained the community managers should be aware that there will be attrition when you switch platforms—not everyone will come with you. On the positive side, you will more than likely have a community of motivated and active members on the new platform. Gin was also pleasantly surprised by the number of new members on the private platform that did not come from the Facebook community!
Gin also stresses the importance of not trying to do everything yourself! Entrust volunteers and other team members with running parts of the community.
Click here to listen to the webinar in full to discover more about these three ideas as well as the other topics discussed!
Read this article to learn more about the differences between public social networks and private online communities.
Hivebrite is a comprehensive and flexible community engagement platform. It empowers organizations of all sizes and sectors to launch, manage, and grow fully branded private communities. Schedule a demo today!