When built intentionally, online communities can be the perfect vehicle to deliver significant business benefits, but community leaders often struggle to demonstrate the value of their efforts through community metrics that resonate with business stakeholders.
Listen in as Morgan Wood, Hivebrite's Head of Community and Chris Detzel, Director of Customer Community and Executive Engagement at Reltio, discuss how you can demonstrate the impact of your community to turn it from a "nice to have" to a "must have" for your organization.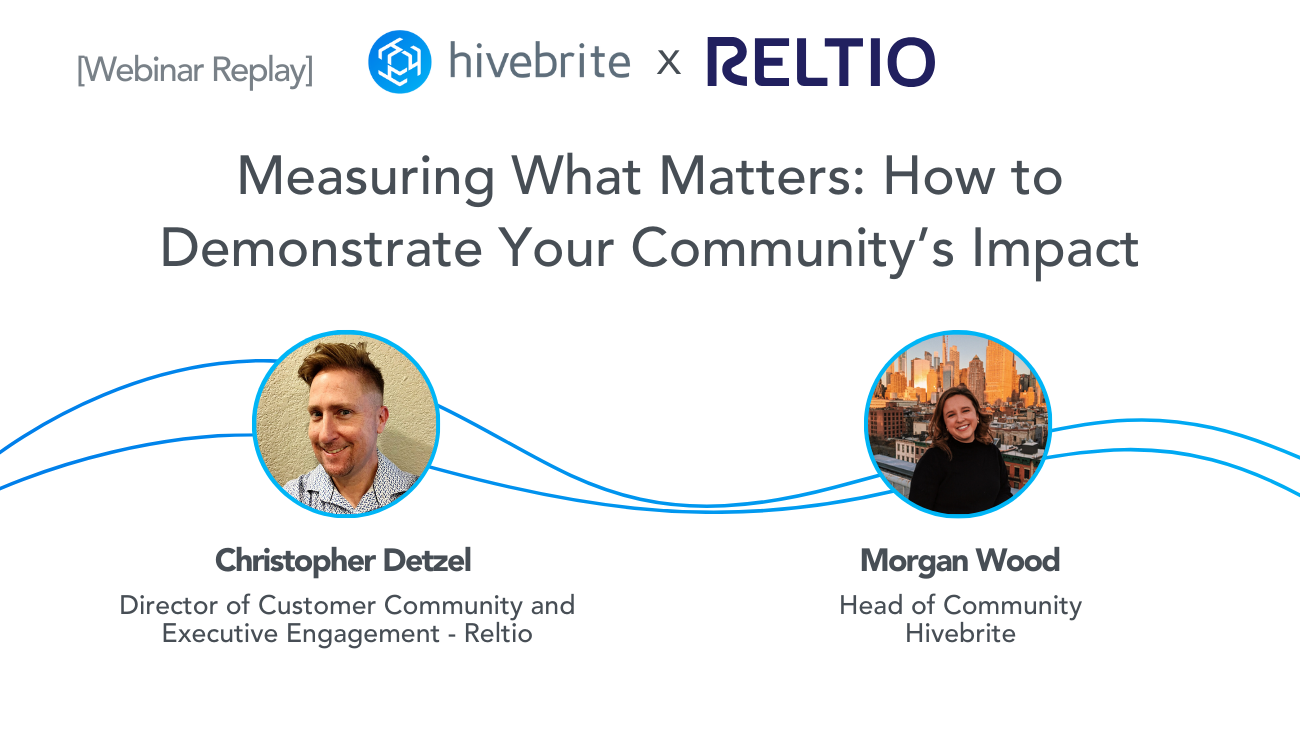 Key discussion points include:
Essential questions to ask to choose the right metrics for your community's goal(s)

How to choose the right metrics based on your community lifecycle stage (launch/ growth/ maturity)

Harnessing metrics to tell your community's story

Tips and tactics for collaborating with other departments
What Story Are You Trying to Tell?
Morgan and Chris start the discussion by highlighting the importance of telling your community's story.
When deciding what metrics to track, you should first consider the following: What story are you trying to tell?
Your community metrics are more than just numbers you track every month—they tell your community's story to your members and stakeholders.
Conversations about metrics need to be grounded in the reality that engagement looks different in every community, which means that it is essential to track two things at once:
Metrics that help you understand daily and monthly health as the community manager.

The "big impact" metrics for executives. This is where you should be narrowly focused.




Watch the webinar in full to discover more about choosing the right metrics for your community and the other points discussed!
Hivebrite is an all-in-one community management and engagement platform.
It empowers organizations to launch, manage, and grow fully branded private communities. Hivebrite is completely customizable and provides all the tools needed to strengthen community engagement.
Over 900 organizations worldwide, including CERN, The Channel Company, Shell Alumni, NYSE, and WWF, use Hivebrite to build and engage vibrant communities. Schedule a demo today!