Alumni relations metrics are becoming increasingly sophisticated, and benchmarking your efforts isn't straightforward.
Listen in as Jenny-Cooke Smith, Sr. Director of AMAtlas Services at CASE, Jo Gardner, Head of Alumni Relations at Imperial College London, and Andy Shaindlin, VP of Grenzeback Glier & Associates, discuss best practices to evaluate the impact of your alumni engagement efforts.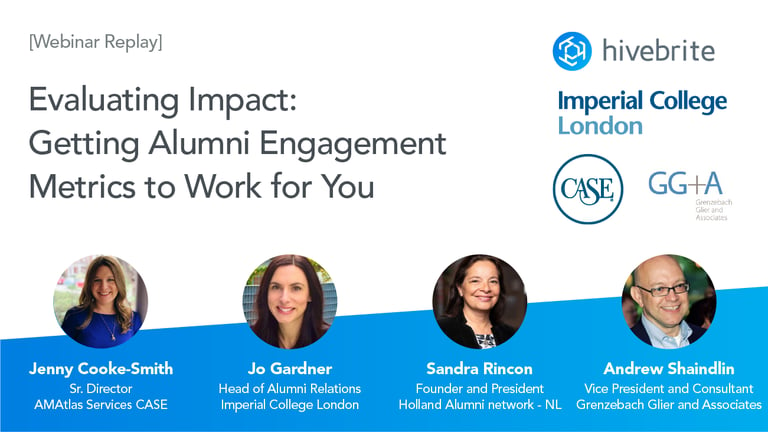 Walk away with insights on:
How to meaningfully benchmark your organization
Defining engagement
How to choose the most relevant impact metrics for your organization
How to make data meaningful and demonstrate impact in the wider institution
The future of alumni engagement metrics
Don't have time to watch the replay? Keep reading to discover the key takeaways!
Is There a Universally Agreed Defintion of Engagement?
There is no universally agreed definition of engagement. However, CASE's definition is a good starting point.
When the CASE Task Force first set out to define engagement, they realized they needed to determine what alumni means to fully understand who advancement professionals are talking to.
The team put together the following definitions:
While institutions can take CASE's definition as a base, the definition of both engagement and alumni differs from one institution to another. Plus, both of these definitions are constantly evolving. So, the most important thing is to have internally agreed on definitions and stay consistent.
Can You Collect Too Many Metrics?
It's easy to go overboard with metrics and collect too many. Managing data can be hugely time-consuming–every minute that someone from your team spends on data input is a minute they're not interacting with your alumni.
You need to find the right balance.
You need indicators that align with your strategic goals and enable you to track progress.
Create a strategic roadmap detailing your intended outcomes in one, three, and five years. By keeping your intended outcomes for the upcoming years in mind, you can move your resources around to deliver the most significant impact. This could include moving resources from engagement metrics into events, volunteer management, or communications initiatives that are visibly engaging alumni.
The Importance of Correlating Data
Traditionally, institutions have focused on collecting quantitative data: number of events, volunteers, volunteer hours, etc.
People tend to want to measure something to at least a couple of decimal points, but not everything can be reduced to a number.
For example, if someone asks you how your relationship is going with your significant other, you're unlikely to reply that it is at 93.7% and up 5% since the last fiscal year. It is the same for alumni relationships. You need to go beyond numbers and make the data meaningful.
Sure, a lack of numbers can put you at risk of overinvesting in initiatives that you can't precisely determine the impact of. But subjective outcomes can still be valuable to your institution. The most important thing is to apply a rigorous methodology when evaluating them.
Correlating data is also critical.
Correlation can tell if two variables have a linear relationship, and the strength of that relationship.
For example, if someone doesn't attend any events, what's their likelihood of becoming a first-time donor in the upcoming year? Compare this to someone who attends an event and how likely that person is to become a donor.
Knowing one may help you predict the other when two variables are correlated. With this information, you can focus your engagement efforts on initiatives that drive the most impact.
Watch the webinar in full to discover more on these takeaways and other topics discussed!
Hivebrite is a comprehensive and flexible community engagement platform. It empowers organizations of all sizes and sectors to launch, manage, and grow fully branded private communities. Schedule a demo today!