We are back with our #HBSuperhero series! This time, we spoke to Sandy, Hivebrite's Front End Developer! Discover her biggest challenge, most remarkable achievement, and what she likes most about her role!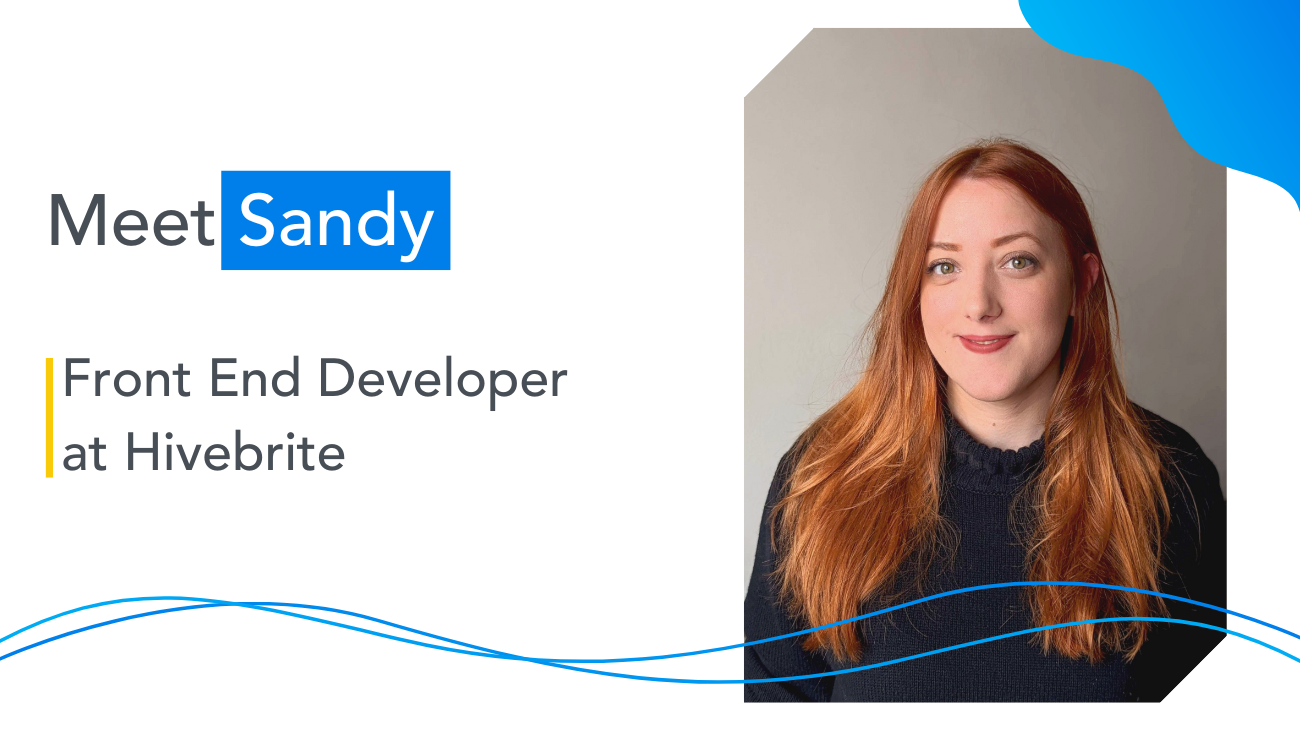 Tell us about your background!
Hi everyone, I work as a Front End Developer at Hivebrite.
I would say I have quite an atypical background for a developer.
I started my professional career as a hairstylist. During this time, I began to teach myself coding on the weekend—just for fun!
When health reasons required me to stop working in hairdressing, I decided to turn my passion for coding into a career and enrolled in a professional training program for developers.
As soon as I completed my training, I interned as a Full Stack Developer for a real estate startup before joining Hivebrite.
Outside of work I enjoy playing video games and role play games like Dungeons and Dragons.
What made you want to work at Hivebrite?
I put a lot of time and thought into my job search. I wanted to find a caring company where I could learn and grow professionally.
My first interview at Hivebrite was with a fellow Dev. I really appreciated speaking with someone from my profession who could give me everyday insights into the role I was applying for.
We had a valuable exchange that enabled Hivebrite to start to assess if I was a good fit for the company and also for me to evaluate if Hivebrite was a good fit for me.
What's your superpower at Hivebrite?
I have been told that I am a caring colleague who looks out for the people I work with and can be counted on.
What motivates you to come to work?
The opportunity to work with wonderful people. I feel inspired, challenged, and encouraged by my colleagues. Our company culture encourages us to innovate, try new things, and not be afraid of failure.
How has Hivebrite's product challenged you?
The product is enormous, and I admit, in the beginning, this was quite intimidating. But the team is so talented and supportive—they really helped me to get to grips with the product, learn on the job, and become more and more confident in my role!
What skills have you developed in the role?
I have learnt new coding languages, specifically Ruby and Ruby on Rails!
Could you share with us one of your proudest Hivebrite moments?
I worked on two big feature releases employing the new languages I learnt at Hivebrite. I got great feedback on both in terms of look and feel and usability.
Tell us something outsiders don't know about Hivebrite!
What can start as a quick drink after work can often transform into several drinks and dancing at our local bar!
How would you describe the company culture?
Human-centric and inclusive. At Hivebrite, everyone has their place, and everyone's opinion is welcome and valid.
What advice would you give to someone joining Hivebrite's Dev Team?
The product can be overwhelming at first. But remember, you are surrounded by a caring, supportive team that wants to help you succeed.
Don't be afraid to ask questions and challenge the status quo—we value people with initiative and motivation to learn!
Ready for a new challenge? Check out our open positions here!
Want to discover more about life at Hivebrite? Meet Al, our Implementation Specialist, Brenda, our Senior Product Designer, and Jeremy, our Head of Marketing.
Hivebrite is a comprehensive and flexible community engagement platform. It empowers organizations of all sizes and sectors to launch, manage, and grow fully branded private communities. Schedule a demo today!