Earlier this week, we launched Community Therapy, a new podcast series to support community professionals navigating the exciting yet increasingly complex world of community building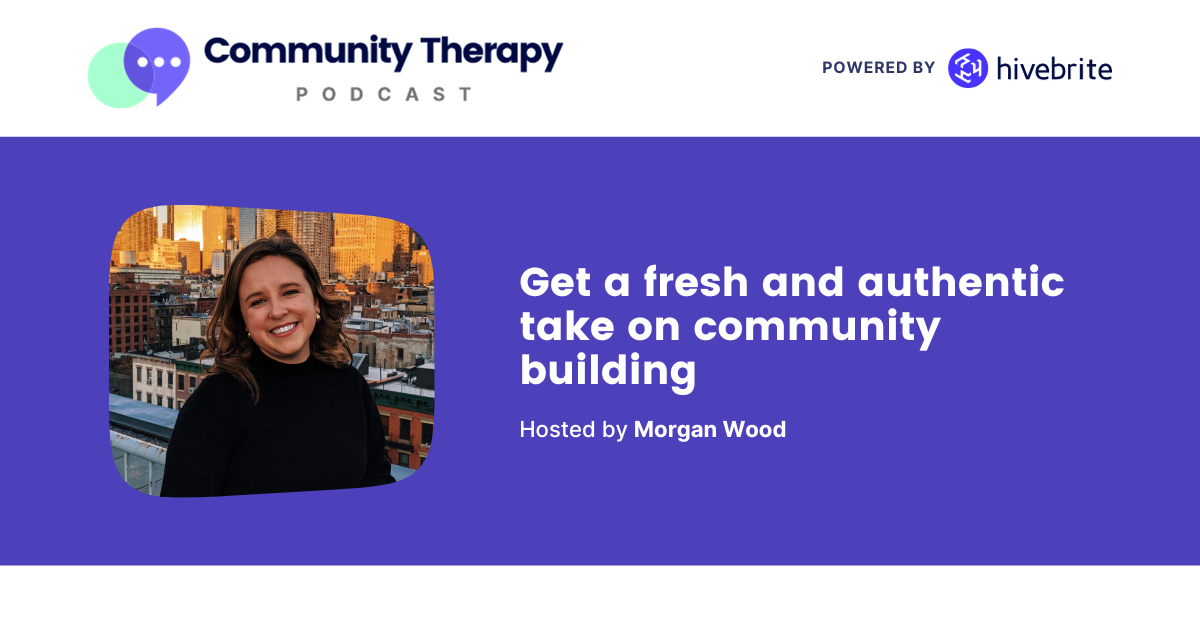 Discover the Community Therapy Podcast
Throughout the series, host and Hivebrite's Head of Community Development, Morgan Wood, is joined by fellow community thought leaders to discuss their real issues, share personal experiences, and offer practical advice that listeners can apply to their communities.
We caught up with Morgan to learn more about her background, the podcast series, and why she decided to host it.
Morgan, hello! Please could you tell us a little bit more about yourself?
Certainly! I'm located in Albany, New York, and I have extensive experience in community-building, ranging from event planning to devising strategies for online platforms from scratch.
Along with community building, I'm passionate about gender equity and social impact. In my free time, I also like hiking, painting, practicing yoga, listening to music, and spending time with my pups, Ollie and Remy.
How did you get into the world of community building?
I first dipped my toes into the world of community building back in middle school, thanks to my involvement with the student council. One of our standout projects was the 'Wall of Kindness', inspired by Rachel's Challenge.
Fast forward to a youth leadership conference in 2013, I discovered Girl Up, a girl-centered leadership development initiative, focusing on equity for girls and women in spaces where they are unheard or underrepresented. This led me to not only start the first club in upstate New York but also to help establish a coalition of over 30 clubs in just three years. We did this by hosting events—from movie nights, 5K races, regional summits—to spread the word and raise awareness.
During my time with Girl Up, I was able to expand beyond the organization's initial programming and join the team full-time. I helped to expand Girl Up's community-based initiatives and digital presence during my time there, expanding our reach to more than 150 countries and all 50 states.

Beyond my focus on gender equity in community building, I branched out into other realms, leading to the establishment of the Binghamton Cheese Club—a community for cheese aficionados, affectionately termed 'curd nerds'. The grassroots and community-building expertise I cultivated with Girl Up has not only broadened but also positioned me as a versatile asset in community building.
Drawing on these experiences, I now steer community development endeavors at Hivebrite and our GTM strategies.
Tell us a little more about the Community Therapy podcast and why you decided to host it.
We wanted to create a podcast that delves into the real, raw, and often challenging aspects of community building. We know that it's not always easy, but we believe that we can all learn and grow together as an industry by acknowledging and addressing the struggles and dilemmas.
We hope to create a safe and welcoming space where community professionals can find practical solutions, share their experiences, and connect with others who understand their unique challenges.
Listeners can join us for authentic discussions, thought-provoking insights, and actionable strategies that help them overcome obstacles in their community-building journey.
Each episode kicks off with a discussion around an audience-submitted community confession. We source confessions and episode inspiration from The Hivebrite Community.
What did you enjoy most about season one?
Honestly, the whole experience! We have a fantastic lineup of guests for season one, and exchanging with and learning from each of them was amazing.
Everybody in the community-building profession is so willing to help each other out–the whole season reinforced my perspective on how much solidarity there is. All of us are in the same (if not similar) boat, which means we learn as we go along, and we don't know everything—and that's fine!
One final question: what communities are currently on your radar?
Ooh! This is such a fun question—at the moment (and true to my roots), I'm keeping up to date with the Chief and Ellevest collab. I think there are a lot of interesting opportunities there. In addition to that, I'm also keeping up with the Fan of the Fans podcast and newsletter—it's hard not to be captivated by the influence that fan communities have.
Thanks, Morgan!
Season one of Community Therapy is live! This season's guests include: Carrie Melissa Jones, Christina Garnett, Deb Schell, Jenny Weigle, Nikki Thibodeau, and Adrian Speyer.
Hivebrite is an all-in-one community management platform. We empower organizations of all sizes and sectors to launch, manage and grow fully branded private communities. Schedule a demo today!