For the final episode of the year, we welcomed back Dr Maria Gallo, Founder of KITE – Keep in Touch Education and author of The Alumni Way, to discuss how to provide lifelong value to graduates.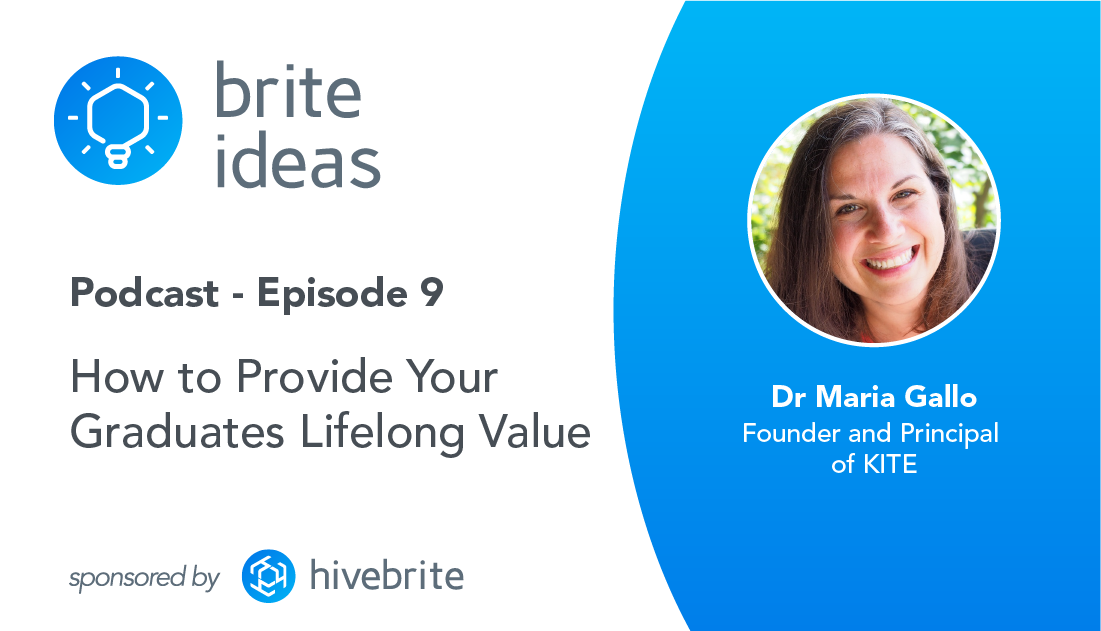 Some listeners may remember Maria from our first ever episode of Brite Ideas back in March 2021, when she exchanged thoughts and ideas on alumni relations and the COVID-19 lockdown.
Listen in as Maria and host Sandra Rincon discuss:
How institutions can provide a better experience for their alumni
How institutions can provide lifelong value
How to measure lifelong value
The importance of an alumni from day one strategy
And more
Three Brite Ideas on How to Provide Graduates Lifelong Value
In every episode, we ask our guest to share three brite ideas, to sum up the conversion.
Here are Maria's brite ideas on how to provide graduates lifelong value.
1. Listen to Your Alumni Regularly
As we get older as professionals, we may miss out on understanding what our alumni cohorts want. Block out an hour on a Friday and spend time talking with one or two alumni. The more you listen to your alumni, the more you will understand what they see as value.
2. Take Stock of What you Offer
Do an audit of everything offered to alumni that gives them lifelong value. Note how much is coming from the alumni or advancement office and other institutional partners. Ask yourself how you can increase the diffusion of value amongst different partners.
3. Be a Spy
We get our greatest ideas by looking at what others are doing. Spend time in your own alma mater's alumni communities and read the publications and magazines. This will give a good view of what is coming out of other institutions and insights into how you may adopt similar principles (or not).
Listen to the podcast to discover more about these brite ideas and other topics discussed!
Hivebrite is an all-in-one community management platform. It empowers organizations of all sizes and sectors to launch, manage, and grow fully branded private communities. Schedule a demo today!