For this episode of Brite Ideas, we welcomed Robert Li to discuss how podcasting can be a powerful tool to engage alumni communities.
Robert is the Director of Community Development at Alumni FM, a podcast production company that helps universities and organizations produce meaningful podcasts to engage their communities. Robert's clients include notable universities like UC Berkeley, the University of Pennsylvania, and the University of Utah.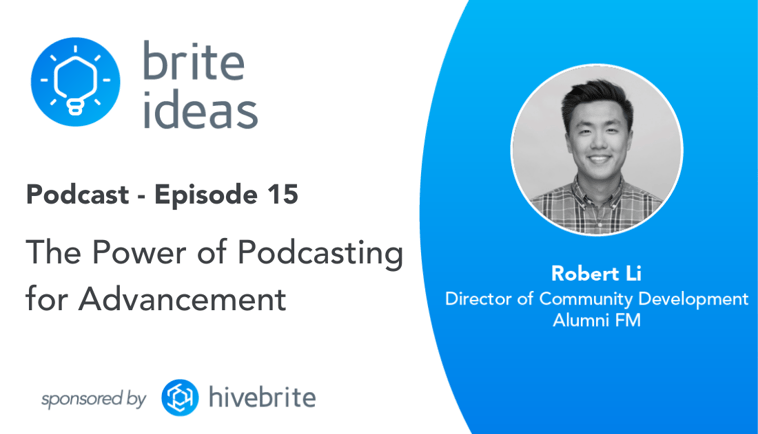 Discover how podcasts can help improve your alumni relations and the ins and outs of producing a compelling podcast.
Listen in as Robert and host, Sandra Rincon, discuss:
Why podcasting is an effective tool to engage alumni communities
How to create and develop a meaningful podcast series that will resonate with your audience
How to measure your podcast's impact on alumni relations
And more
Three Brite Ideas The Power of Podcasting for Advancement
In every episode, we ask our guest to share three brite ideas, to sum up the conversation.
Here are Robert's brite ideas on producing a compelling podcast:
1. Before you begin your podcast, sit down with your team and build a solid foundation. Define the podcast's goal, mission, target audience, and brand tone to ensure everyone stays on the same page.
2. Promoting your podcast is a crucial part of the process. Include podcast promotion in your communication strategy. If you don't tell people about it, how else will they know?
3. Your podcast must have a powerful narrative and crisp audio. Don't hesitate to invest in essential equipment to guarantee your podcast's quality—a great mic is a podcaster's best friend!
Listen to the podcast to discover more on these brite ideas, Robert's podcasting journey, trends in the podcast industry, and other topics discussed!
Hivebrite is an all-in-one community engagement platform. It empowers organizations of all sizes and sectors to launch, manage, and grow fully branded private communities. Schedule a demo today!