We are delighted to share the first episode of our podcast series for advancement professionals, Brite Ideas.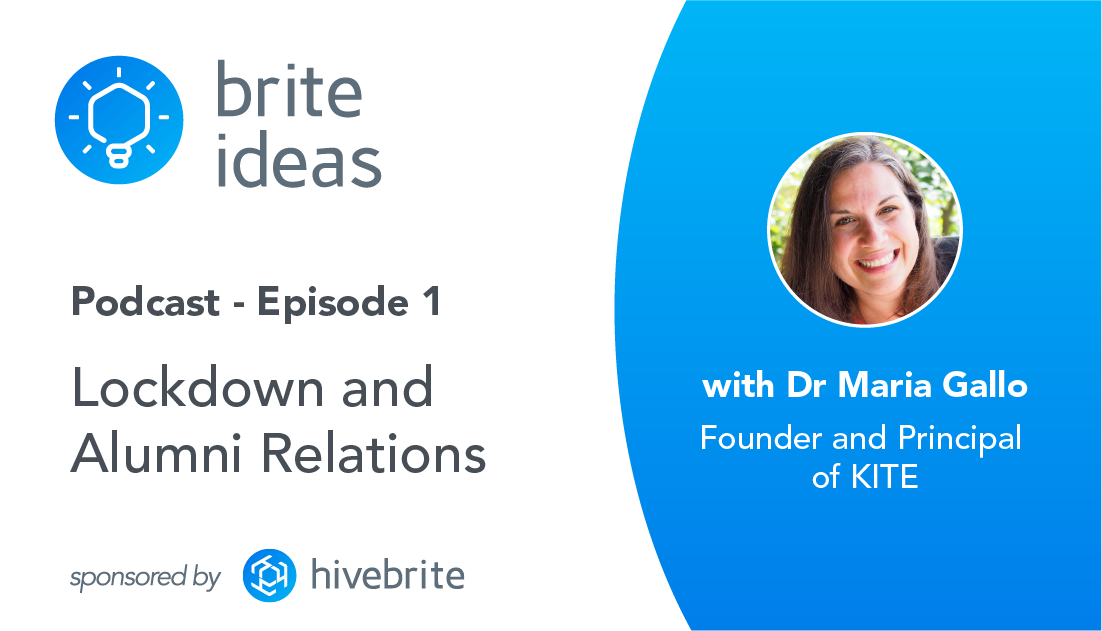 For this first episode, we invited Dr. Maria Gallo, Founder and Principal of KITE, to discuss her recent study on the impact of the COVID-19 lockdown on alumni relations.
Listen to Maria and host, Sandra Rincón, discuss the results of the study, what they mean for the future of alumni relations, and the importance of self-care during these unprecedented times.
More on our Guest: Dr. Maria Gallo
Dr. Maria Gallo is the Founder and Principal of KITE – Keep in Touch Education, a social enterprise that focuses on the transformative potential of alumni connection through research and educational initiatives. She has over 20 years as a scholar in management in strategic development and advancement roles in Canada and Ireland.
In 2020, Maria was appointed as a Visiting Research Fellow with the Trinity Business School- Trinity College Dublin.
Three Brite Ideas on Alumni Relations
In every episode we will ask our guest for three Brite Ideas to sum up the chat. Here are Maria's Brite ideas on alumni relations.
1# Identify Internal Alumni Champions
Everything starts at the top. You need to get senior leaders on board. Identify these internal champions and nurture your relationship with them. Consider how you will connect with them and how you will steward them to ensure they see the value of your work.
2# Build a Research Base
You need to ensure that there is a level of rigor in the research you conduct. It is essential to keep an up-to-date evidence base for all the work you are doing. It can contain both quantitative and qualitative data. Importantly, it should be integrated from the beginning, not as an afterthought.
3# Ensure Your Alumni Relation's Strategy is Aligned With the Institution's Strategy
You need to connect your alumni relations strategy back to your institution's strategy. Ask yourself how the current alumni relations strategy responds to the institution's mission, vision, and values, and most importantly, how does it provide essential value to the alumni base.
Click here to listen to the podcast to discover further details about these three Brite Ideas and more!
Stay tuned for next month's episode where we will be discussing strategy and why it's now indispensable to reevaluate current strategies and perhaps reimagine new ones with Andrew Shaindlin, Vice President for Alumni Relations at Brown University.
Hivebrite is an all-in-one community management platform. It empowers organizations of all sizes and sectors to launch, manage, and grow fully branded private communities. Schedule a demo today!