For this episode of Brite Ideas, we welcomed Tarynne Swarts. Tarynne is currently studying for her Ph.D. in International Education. She is an alum of Nelson Mandela University, Universidad de Granada, and KU Leuven.
Alongside being a Doctoral student, Tarynne wears many wonderful hats.
She is a world musician under the stage name Pachamama, CEO of Imibala Festival, and Project Manager of the Erasmus Photovoice project and podcast series in partnership with ESAA.
Tarynne applies the philosophy of Ubuntu to everything she does. Ubuntu represents the idea that you exist through the communities you are a part of and that you must help where you can. The term is derived from the Zulu phrase, "Umuntu ngumuntu ngabantu", which translates to "I am because you are".
Tune in to the podcast to discover more about Ubuntu and why this philosophy is essential for alumni relations!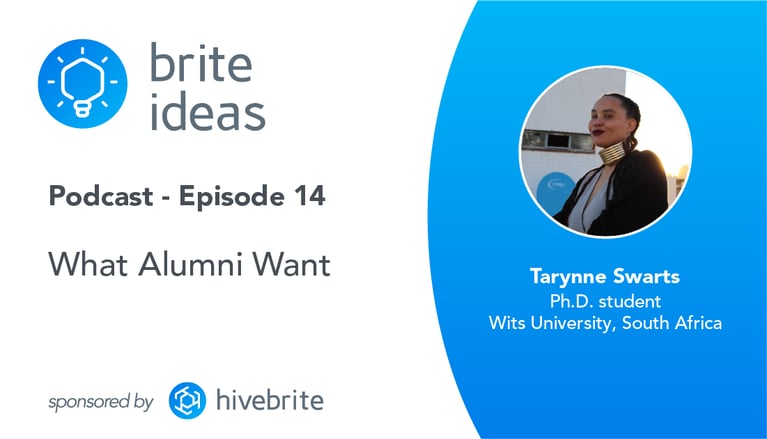 Listen in as Tarynne and host, Sandra Rincon, discuss:
Three Brite Ideas on Alumni Engagement
In every episode, we ask our guests to share three brite ideas to sum up the conversation.
Here are Tarynne's brite ideas on enhancing the alumni experience:
1. Create a group for international alumni to stay connected. Studying abroad can be a wonderful but, at times, challenging experience. Students might have to adjust to the weather, language, and other cultural aspects. Uniting all of these students in an online space empowers them to connect, share experiences, and support each other.
2. Maintain contact with alumni through groups and activities to make them feel included. You could connect them through networking breakfasts, keynotes, seminars, or even a concert.
3.Create opportunities for alumni—older and newer—to connect with each other and existing international students. These connections create a sense of community and everyone can benefit from the exchanges!
Listen to the podcast to discover more about these brite ideas and other topics discussed!

Hivebrite is an all-in-one community engagement platform. It empowers organizations of all sizes and sectors to launch, manage, and grow fully branded private communities. Schedule a demo today!