We turned the tables for this episode and Sandra Rincón, who usually hosts the podcast, was on the receiving end of the questions from Daniel Whitmoyer-Bush, Strategic Accounts Executive at Hivebrite.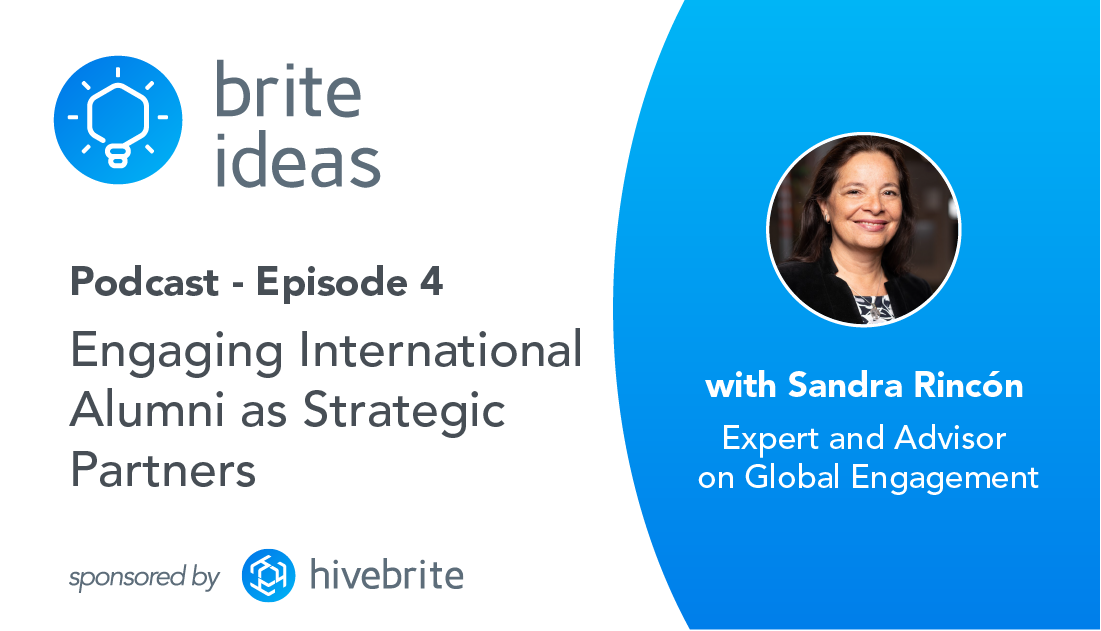 During this episode, Daniel and Sandra discuss:
The impact of globalization on higher education
The benefits international alumni bring to an institution
How international alumni benefit local economies
How to develop international alumni networks
And more
More on our Guest: Sandra Rincón
Sandra has over 30 years of experience working in international education and intercultural communication. Originally from Colombia, Sandra grew up in the US and has been living in the Netherlands for the past 25 years, working specifically in the internationalization of higher education and international alumni relations.
She has just finished co-writing NAFSA's first book on international alumni and internationalization of higher education, titled Engaging International Alumni as Strategic Partner—the topic of this episode!
Three Brite Ideas on Engaging International Alumni
To sum up this episode, we asked Sandra to share three Brite ideas on engaging international alumni:
Engaging international alumni is essential in today's higher education landscape. International networks are fundamental to research and in building international cooperation. International alumni are trusted allies for institutions when in unknown territories.


International alumni relations programs need to be strategic and based on long-term investment. When beginning your program, start small and grow!


Students are in their study programs for a limited amount of time. This relationship can last decades if they become engaged alumni. Each of us has a vital role in ensuring that international students have empowering and engaging experiences so they become engaged alumni. Remember, students are alumni in training, so start building two-way engagement when they're still on campus.
Listen to the podcast now to hear more about these brite ideas and other topics discussed!
Hivebrite is an all-in-one community management platform. It empowers organizations of all sizes and sectors to launch, manage, and grow fully branded private communities. Schedule a demo today!