For this episode of Brite Ideas, we welcomed Dr. Anita Straujuma. Anita is the Executive Director at Riga Technical University Development Fund in Latvia.
Anita completed her dissertation on knowledge management and alumni engagement.
Knowledge management refers to the collection of methods relating to creating, sharing, using and managing the knowledge and information of an organization.
During her research, Anita discovered the concept of customer knowledge management (CKM). CKM merges two concepts: knowledge management and customer relationship management. This discovery led Anita to investigate alumni roles in relation to their university and focus on an important question:
"Do the alumni see themselves as customers?"
Listen to the podcast and find out!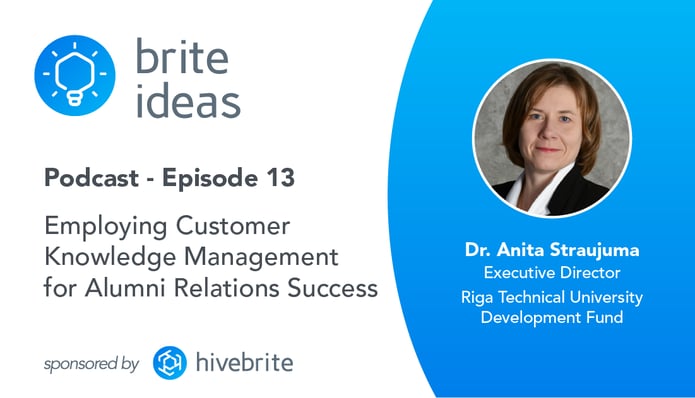 Listen in as Anita and host Sandra Rincon also discuss:
The importance of knowledge management and how to use it for measuring alumni relations success
How to segment your alumni based on fields of engagement and levels of activity using the triple helix segmentation model
How to improve alumni relations using customer knowledge management methods
And more
Three Brite Ideas Alumni Knowledge Management
In every episode, we ask our guest to share three brite ideas to sum up the conversation.
Here are Anita's brite ideas on alumni knowledge management:
Success in alumni relations includes measuring donation and hours. Don't forget the third pillar: knowledge.
Identify your goal in relation to knowledge and determine how you will measure performance.
Think of ways and platforms to help you co-create with your alumni using this knowledge. How can you turn knowledge into new ideas, innovation, or even startups?
Listen to the podcast to discover more about these brite ideas and other topics discussed!

Hivebrite is an all-in-one community engagement platform. It empowers organizations of all sizes and sectors to launch, manage, and grow fully branded private communities. Schedule a demo today!