Girl Up was founded by the UN in 2010 to drive gender equality worldwide by advancing the skills, rights, and opportunities of every girl everywhere.
Girl Up's online community is an essential space to power Girl Up's mission. Employees, leaders, and members can connect, collaborate, access resources, and find a sense of belonging.
Watch this webinar replay and discover how the team behind the community is uniting and engaging girls to change the world.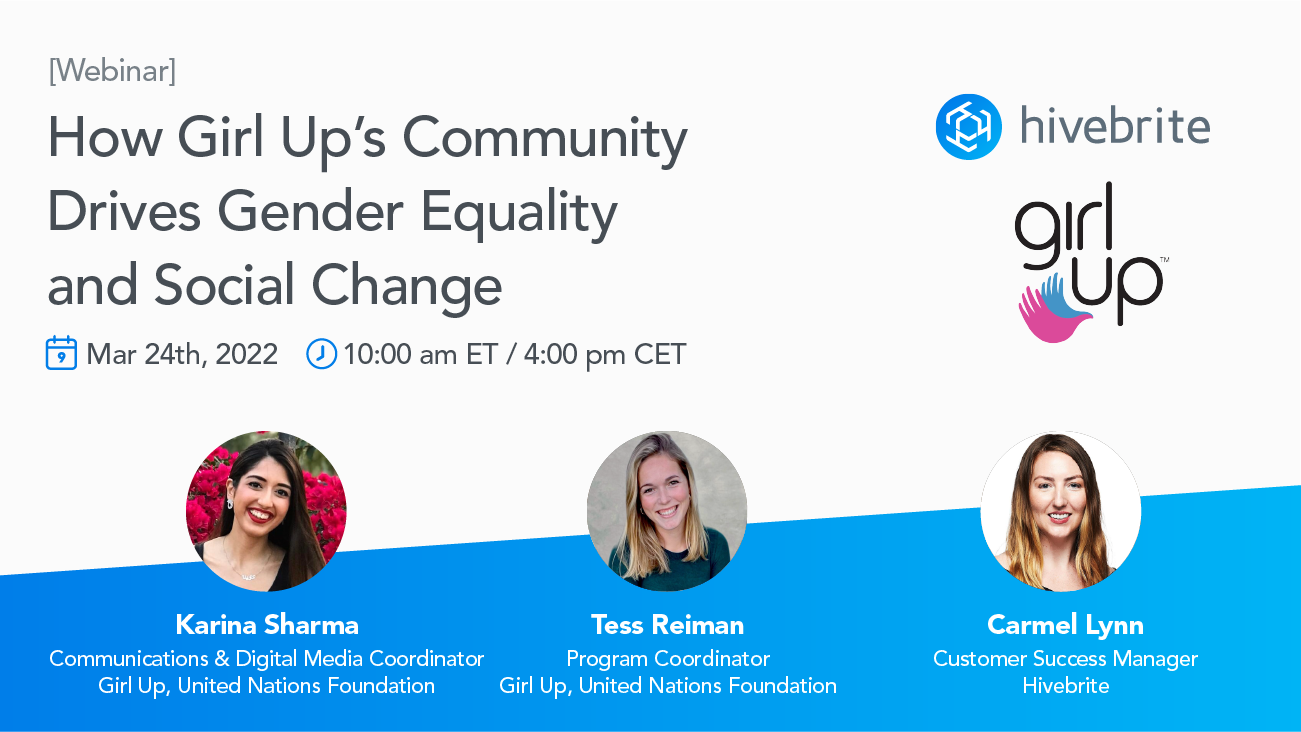 Some topics discussed:
How to identify and empower community leaders
Strategies and tactics to engage a young and diverse audience
Strategies to educate members and facilitate knowledge sharing
How to collect and interpret community data to evaluate success
How to leverage community data to improve community strategy
Keep reading to discover Karina and Tess' advice for Community Managers.
Be Patient
It takes time to build a community.
Growth happens over time when you put daily effort into the community.
Put members—their needs and feedback—at the center of your strategy and you'll see growth and interest.
Be Present
While being patient, you have to be present on your community platform.
Engage with your community leaders and members to build a sense of trust.
The more trust that you build within your community, the more people will see you as a support system and communicate their needs and feedback.
The community provides Girl Up HQ with direct feedback on its various initiatives.
Within the community, there is a dedicated area for members to submit a report to tell Girl Up HQ about the incredible things they have been doing to advance gender equality.
The team can see what topics members are interested in and identify growth opportunities for the community.
Be Active
Being active for the Girl Up team means going into the community every single day and communicating with leaders and members, and responding to their needs.
The team noticed numerous questions from members regarding getting started with the community.
They decided to create a "Get Started" Center to provide resources to help members get the most out of the community.
The center offers a Girl Up Glossary covering terms and vocabulary members might come across while using the community, an FAQ, instructions and advice on starting a club and getting active, and more!
The community also uses a chatbot to enable members to reach out directly to Tess with any questions!
Adapt and Amplify
The world will never stay the same and neither will an online community.
Your community, like the world, needs to adapt.
You need to always be aware of what will best reflect the interests and needs of the community and adapt as necessary.
The more the members feel that the community is their space, the more they'll engage, get to know one another, and share their learnings and successes to continue to grow together.
Girl Up knows that local steps can have a global impact!
The team organizes regular "spotlights" to highlight the great events and content built by its members.
Channels outside of the community such as social media are also used to broadcast the spotlights–maximizing reach and engagement.
Watch the webinar in full to discover more on these takeaways and other topics discussed!
Hivebrite is a comprehensive and flexible community engagement platform. It empowers organizations of all sizes and sectors to launch, manage, and grow fully branded private communities. Schedule a demo today!