Online communities are powerful platforms for connecting trailblazers with each other and essential resources to support and accelerate meaningful change.
Hivebrite is honored to partner with Captain Planet Foundation's Planeteer Alliance and Raleigh Tanzania, two incredible communities dedicated to supporting young people to take action and drive change for the planet.
Listen in as Imari Rodriguez, Customer Success Manager at Hivebrite talks to Robin Okunowo, Community Manager at Captain Planet Foundation's Planeteer Alliance and Tunukiwa Daudi, Country Director at Raleigh Tanzania about how they are using their online communities to achieve their organizations' missions.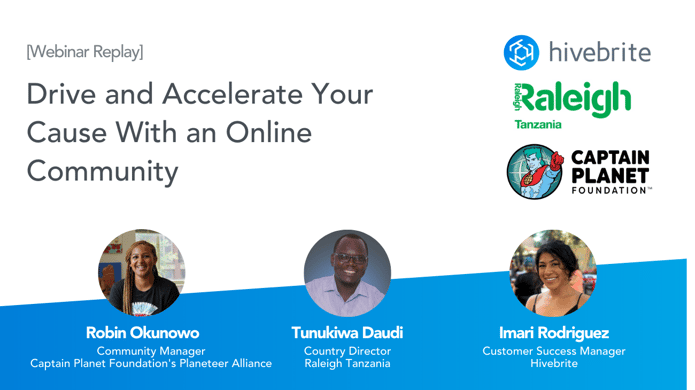 Discover how the organizations use Hivebrite's community engagement platform to create a safe and collaborative online space to unite key stakeholders around the world to drive impact and support their missions.
Other takeaways include:
How to understand and meet the expectations of a diverse young audience
Community initiatives to empower members and elevate voices
Tactics to meaningfully engage members and inspire action
How to choose metrics to measure impact
Why Create an Online Community for Your Nonprofit?
The creation of online communities has skyrocketed in recent years as more and more organizations recognize the tremendous value they can bring to their business.
Quick fact: According to CMX, 87% of organizations believe that community is critical to their organization's mission and 79% agree that community has had a positive impact on their organization's objectives.
So what does all the buzz around community building mean for your nonprofit?
Your stakeholders (supporters, prospects, volunteers, donors, etc) want more than ever meaningful relationships (with your organization and peers) and a sense of belonging.
Building a community is now essential to engage with your stakeholders, connect them to your mission, and scale your organization's impact.
Watch the webinar to discover more about Planeteer Alliance's and Raleigh Tanzania's community strategies and how their communities are bringing value to their organizations!
Hivebrite is a comprehensive and flexible community engagement platform. It empowers organizations of all sizes and sectors to launch, manage, and grow fully branded private communities. Schedule a demo today!