Every community has members who are more involved and vocal. The question is, how can you capitalize on their enthusiasm, activity, and knowledge for the benefit of your organization?
Listen in as Sarah Rapp from JA Worldwide and Tessa Kriesel from Snap Inc discuss how they built thriving community ambassador programs to scale their communities and drive more impact!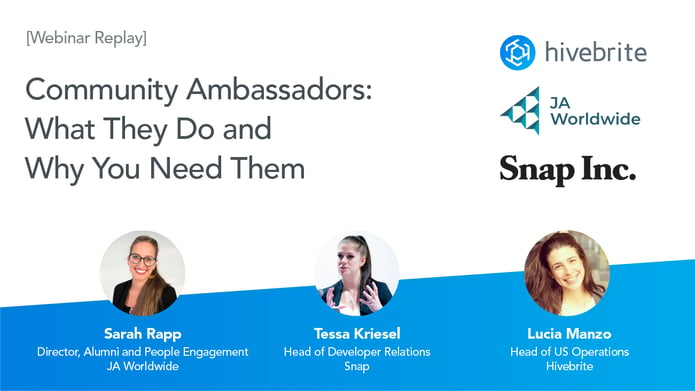 The webinar is packed with insights to help you structure your ambassador program, nurture and incentivize your ambassadors, and more.
Here are some of our top takeaways.
1. Show Appreciation in the Right Way
As humans, we want to feel appreciated for what we do.
There are a lot of ways you can show your community ambassadors appreciation.
However, you need to demonstrate your appreciation in a way that resonates with your ambassadors.
Be creative. What would these people appreciate? Get to know them. A couple of rounds of the "This or That"* in your community's forum is an excellent way of finding out your ambassadors' preferences. Customizing a thank you gift because you know an ambassador prefers hot chocolate to coffee can make your thank you so much more valuable.
Consider providing leadership training or events to further bring awareness to the accomplishments of ambassadors and provide them with additional means to grow their skill sets and network with peers.
* This or That is an easy-to-play word game in which you must choose between two things—for example, pizza or burgers, mountains or beach, etc.
2. Communicate, Communicate, Communicate
Remain in regular communication with your ambassadors and ensure they have a point of contact for any questions or suggestions.
You can do this through one-to-one conversations (Hey, just checking in, how are you doing?). Try to do this monthly to bimonthly, depending on the number of people in the ambassador program and how active someone is.
Create a private space for your ambassadors within your online community. Here, you will be able to ask their thoughts and also connect them with each other so they can share ideas and best practices.
3. Tell More Stories
It's vital to talk about the stories behind the impact of your community to inspire and motivate members and ambassadors alike.
Stories bring to life another person's experiences. They can shape, strengthen or challenge our opinions, encourage us, and more.
Share your ambassadors' and members' stories in your community. Explain how they impact the community's mission and bring value to everyone.
When a story engages us, we are more likely to absorb the message behind it than if the same message was presented in facts and figures.
Watch the webinar in full to discover more on these takeaways and other topics discussed!
Hivebrite is a comprehensive and flexible community engagement platform. It empowers organizations of all sizes and sectors to launch, manage, and grow fully branded private communities. Schedule a demo today!