We are back with our #HBSuperhero series! This time, we spoke to Mélodie, Hivebrite's HR Manager! Read more about Mélodie's role, Hivebrite's hiring process, qualities that we look for in all candidates, and more!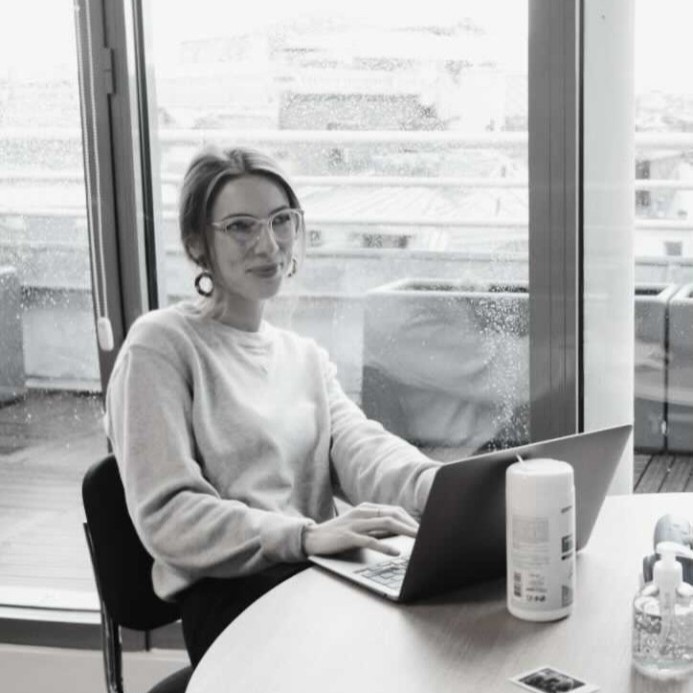 What is your story, Mélodie? Could you tell us a little bit more about yourself?
Hey everyone! I am originally from Senlis, a city in the north of France famous for its Cathédrale Notre-Dame.
I have spent most of my career working in Paris! I first came to Paris to complete my Bachelor's Degree in Human Resources (HR) at Sorbonne University. After graduating, I decided to pursue Law. I knew that to be a good HR Manager, I would need to have a solid understanding of employment laws.
For my end-of-study internship, I worked in the HR department of a startup called Brands and Celebrities, an influencer marketing platform. It was there that I met my current manager at Hivebrite, Clémence. After my internship, I landed an excellent position at Seelk (now owned by Jellyfish), a tech agency supporting brands to maximize their performance on Amazon. Here, I developed their HR department from scratch.
About one and a half years later, Clémence contacted me regarding an opportunity at Hivebrite. She wanted someone to work alongside her to build Hivebrite's HR department from the bottom up. I was delighted to be able to work with Clémence again.
That's how I ended up at Hivebrite!
What does a typical day look like for you as an HR Manager?
I love my job. It is incredibly diverse, including people, Law, and engaging administrative tasks.
I juggle between HR laws of various countries like - France, Australia, Indonesia, India, Colombia, and Spain. But my main focus is the French market.
On a typical day, interviews take up forty per cent of my day. About thirty per cent of my day is dedicated to administrative tasks like managing payroll, drafting employment agreements, and taking care of other financial paperwork.
I dedicate the final thirty per cent to working on our employer brand and exciting initiatives to attract and retain talent.
What's your superpower at Hivebrite?
I'm not sure if it's a superpower, but what helps me most in my role is that I am a naturally curious person.
I love to learn more about people working and wanting to work at Hivebrite. I want to understand people and what matters to them so I can support them to reach their full potential.
I can adapt to different people from different cultures. This skill is essential at Hivebrite, where we have employees from more than 30 countries. Someone who lives in the US is different from someone in France, so you cannot ask the same questions when interviewing.
You need to be a chameleon and adapt, and that's the fun part about being an HR Manager!
How would you describe Hivebrite's company culture?
At Hivebrite, you are free to be yourself.
We believe in a rich and diverse work culture. We believe that our differences are a strength and contribute to a thriving work culture.
Trust is an integral part of our work culture. If you're hired at Hivebrite, it means that we trust you! You might not tick every box on the job requirements list, but having the motivation and right mindset to learn on the job is what matters.
What's unique to Hivebrite?
As cliché as it might sound, we care about employees at Hivebrite. This can sometimes mean making decisions that are not business-oriented but people-oriented.
We make sure that people feel free to be themselves and have what they need to be comfortable and excel in their roles. It's not perfect, but it's a healthy place to work where people acknowledge that there is always room for improvement.
Tell us something that outsiders don't know about Hivebrite.
Le Lafitte bar, our local "watering hole"! Most days after work, we end up in this bar to grab a drink and catch up outside of work.
Could you explain the hiring process at Hivebrite?
We try to make the process as seamless as possible for our candidates. We want to make sure that they have a positive experience. The process usually takes ten days but can differ from one position to another.
The first call is with the hiring manager. The goal is to deep dive into the job description and the candidate's experience.
After this step, the candidate has a call with a member of the HR team to understand their career plan better and assess if they are a good cultural fit. This call is also an opportunity for the candidate to ask questions about the company and our culture!
We often ask candidates to complete a task to test their skills and then present it to the hiring manager.
Are there any critical skills or qualities you look for in all positions?
Apart from the skills you need for the role, we ensure that you would be a good fit for Hivebrite's culture. You could be excellent at what you do, but we would hesitate to hire you if you don't fit with our culture that I described earlier.
Another important thing is the ability to speak in English. We have employees from all over the globe, so our working language is English for everyone to understand each other.
Could you tell us about how you nurture and retain employees at Hivebrite?
We strive to treat everyone equally at Hivebrite. This can sometimes be tricky as not all countries are on the same page in terms of employment agreements and laws, but it is something we are working on!
We understand that being able to work from home is important for our employees, and we have developed a flexible remote policy.
We are also working on an exchange program to enable employees that have been in the company for a specific time to work from our different offices around the globe. This initiative will offer an excellent opportunity for our employees to see another place and meet their international colleagues.
We are also developing a nomad program to empower employees to work in different countries for a couple of weeks.
What advice would you give to someone looking to join Hivebrite?
Have a look at our product. It isn't a simple one, and you need to like the product to understand your missions at Hivebrite fully.
Check out our blog articles and Youtube videos to discover more about the community industry, our product, and our company. Ask yourself if all of this interests you. Try to picture yourself in three years and ask yourself if you would still be passionate about what we do, your job, and the product you'll be working with.
What's the funniest question a candidate has asked you in an interview?
Haha, you're putting me on the spot now! I can't think of any specific question, but I have noticed an interesting trend.
A couple of years ago, the question during interviews was, why should we hire you? But now, candidates are changing the narrative and asking why they should join us. This change is exciting, and HR Departments need to work hard to build healthy work environments to attract and retain talent.
Ready for a new challenge? Check out our open positions here!
Want to discover more about life at Hivebrite? Meet Brenda, our Senior Product Designer, Dhia, our Customer Success Manager, and Jerem, our Full Stack Developer.
Hivebrite is a comprehensive and flexible community engagement platform. It empowers organizations of all sizes and sectors to launch, manage, and grow fully branded private communities. Schedule a demo today!