For the second episode of Brite Ideas, we invited Andy Shaindlin, Vice President for Alumni Relations at Brown University, to discuss the importance of strategy.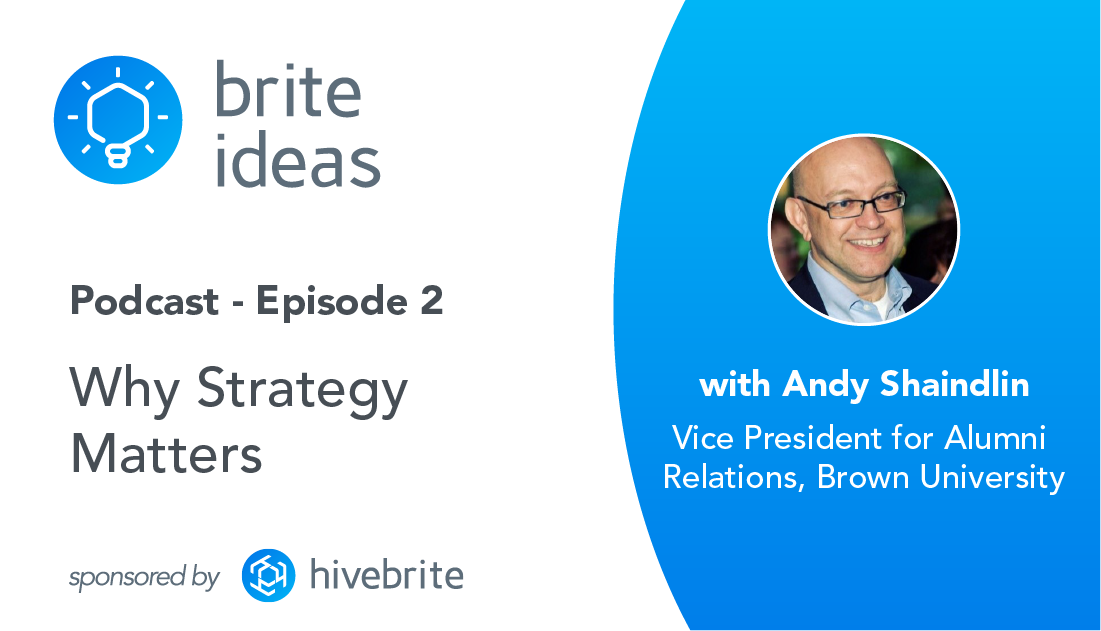 Strategy has always been important to alumni relations programs, but it has now become indispensable to reevaluate current strategies and perhaps even reimagine new ones.
Listen as Andy and host, Sandra Rincón, discuss:
The definition of strategy
Why strategy matters
The best way to develop a strategy roadmap
How to build a "case for support" for alumni relations strategy and engage internal stakeholders in the process
And more
More on our Guest: Andy Shaindlin
Andy Shaindlin is the Vice President for Alumni Relations at his alma mater, Brown University. He has over 30 years of experience in Advancement and has held leadership positions at the University of Michigan, California Institute of Technology, and Carnegie Mellon University.
Andy has worked as an international alumni strategy consultant. He is also a frequent international speaker and author on global nonprofit strategy and alumni engagement topics.
Three Brite Ideas on Alumni Relations Strategy
As with every episode, we invited Andy to share three Brite Ideas to sum up the conversion. Here are his Brite Ideas on alumni relations strategy.
1# Focus on Unique Strengths
Don't try to be all things to all people. Prioritize audiences and then connect them with the people and activities unique to your institution.
For example, we are fortunate to have an excellent medical school and a school of public health. During COVID, we decided to focus on public health content, sharing our research and teachings related to the pandemic and public health.
2# Defining your role with your impact rather than your title
If someone asks what you do, I would encourage you to answer with the outcome of your work rather than your title.
For example, instead of saying you are the Assistant Director for International Recruitment, you could say I help deliver a steady stream of top students from all over the world.
We aren't just what we do. We are, ideally, what we make possible through our work.
3# Identify and track a few metrics that reflect outcomes
Alumni metrics are a hot topic but don't just count things, ask yourself what you achieved.
You need to go further than just counting how many people came to an event. You need to find out if attending the event changed the participants' behavior over time.
To do this, it helps to look for correlations—for example, are volunteers more likely to be donors?
Click here to listen to the podcast to discover more about these three Brite Ideas and the other topics discussed!

Hivebrite is an all-in-one community management platform. It empowers organizations of all sizes and sectors to launch, manage, and grow fully branded private communities. Schedule a demo today!