International Education Week (IEW) takes place every year in November. It's an opportunity to celebrate the benefits of international education and exchange worldwide.
To mark the occasion, we spoke to Dr. Dilnoza Khasilova, a postdoctoral fellow at the Global Engagement Office of the University of Wyoming.
Dilnoza has built a nonformal World Language and Culture Program with a unique structure and diverse community in Wyoming. She is particularly interested in the power of engaging alumni through lifelong learning.
Dilnoza completed her M.A. and PhD. Education in Curriculum and Instruction with a focus on Literacy Studies and International Studies at the University of Wyoming.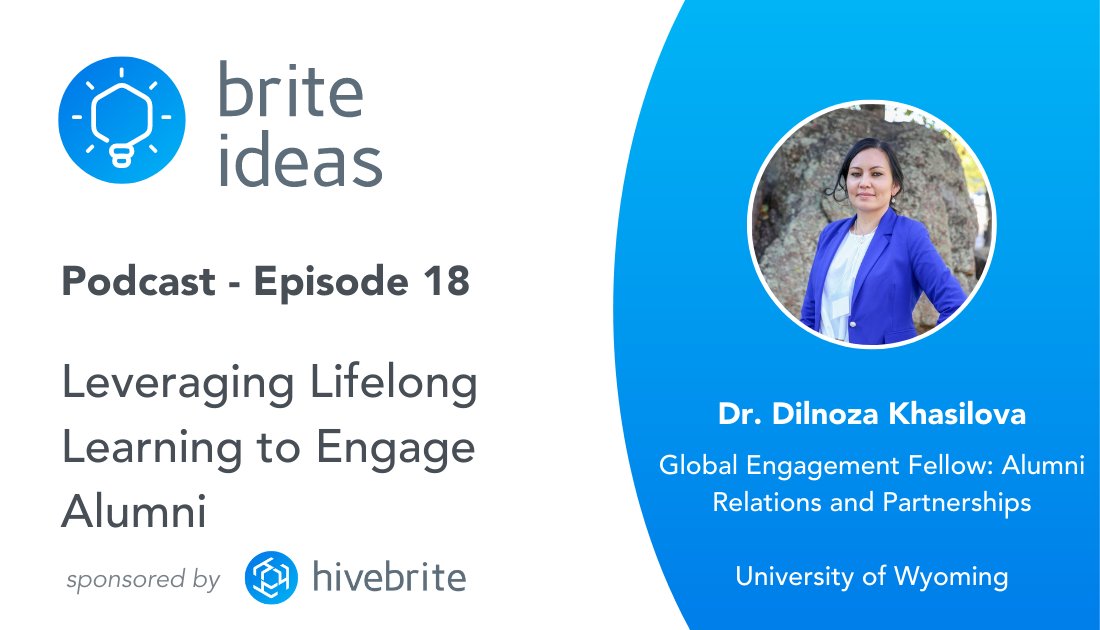 Listen in as Dilnoza and host Sandra Rincon discuss:
The importance of developing intercultural competences
How lifelong learning can be used as a tool for community building
How lifelong learning can be used to engage alumni
And more
Three Brite Ideas on Lifelong Learning
In every episode, we ask our guest to share three brite ideas to sum up the conversation.
Here are Dilnoza's brite ideas on lifelong learning as a tool for engaging alumni:
Engage the community at large through lifelong learning. The community at large includes alumni, the university, and local partners. Remember, it's not only about helping the university get financial help. It's also about growing, learning, and making an impact.
Alumni want to keep learning. They want to be included even if they have already graduated. Each person will bring diverse and unique experiences.
Offer all forms of learning and allow alumni to give back to the university and the community. This could be through volunteering, helping with recruitment, connecting alumni, or connecting the university with organizations that can help with its goals.
Listen to the podcast to discover more about these brite ideas and other topics discussed!
Hivebrite is an all-in-one community engagement platform. It empowers organizations of all sizes and sectors to launch, manage, and grow fully branded private communities. Schedule a demo today!