Advanced Event Management capabilities for your community
Organizing events is a great way to engage your community.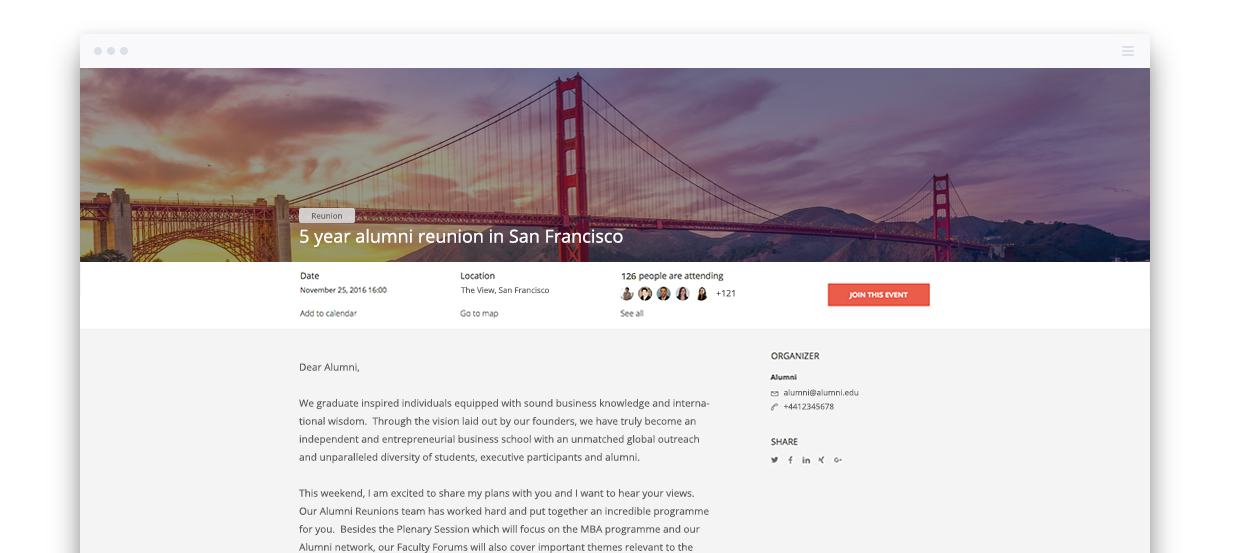 It allows you to offer your members networking opportunities, value added content and to reengage with your brand.
The overall organization of such events can itself be very difficult and time consuming. The process of promoting it to your members, boosting attendance and recording the back office data doesn't need to be!
With Hivebrite's complete Event Management module, you can easily manage your full calendar of events:
Give your community a global and interactive map (literally) of where and when in the world events are happening

Payments are simple and secure through your Hivebrite platform and mobile phone app

Create various ticket categories and make them visible to individual segments of your community

Empower your network of admins around the world to organise their own events based on their groups, locations, interests etc.

Push your event to the major social networks to boost visibility

Identify and promote VIPs, Corporate Partners, remarkable alumni etc

Send out an emailing campaign to attendees; or

Full data management capabilities including participant lists with contact details, payments made and received, analytics and many more...
Save precious time on admin and communication around your events so you can focus on organizing the best possible events for your members.
Hivebrite is a leading provider of branded community management platforms and helps all size institutions grow and engage their community - Feel free to request a demo if you would like to know more.