Our new podcast, Brite Ideas, is designed for advancement professionals. It will share experiences and research on how to achieve and demonstrate a greater impact!
Throughout the series, host Sandra Rincón, and other global alumni experts will candidly discuss pressing issues, explore research findings from the field, consider what alumni relations can learn from other industries, and more.
We caught up with Sandra to find out more about her background, the podcast series, and why she decided to host it.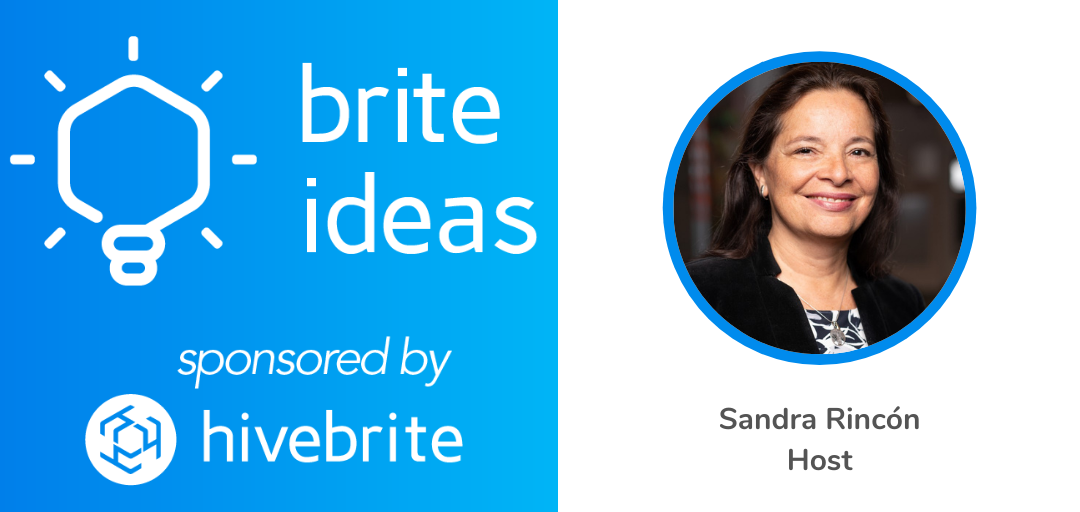 Sandra, hello! Please could you introduce yourself and tell us a bit about your background?
Sure, and hello everyone. I am originally from Colombia and I moved to the US when I was a child. I grew up and studied primarily in California where I completed my college education to become a bilingual teacher.
I'm a happy alum of UC Davis, UC Irvine, and Cal State Fullerton.
I have over 30 years of experience working in international education and intercultural communication. For the past 20 years, I have been living in the Netherlands and working specifically in the internationalization of higher education and international alumni relations. I'm actually co-writing NAFSA's first book on international alumni and internationalization of higher education titled "Engaging International Alumni as Strategic Partner". It will be published in May 2021.
I am also founder and president of the NL alumni network-Netherlands and a senior consultant for the EU ALUMNI Initiative.
Sounds great! Please could you tell us a bit more about the Brite Ideas podcast and why you decided to host it?
I decided to host this podcast series because I believe in community building to promote diversity for a more inclusive world. Engaging with a diverse group of experts can help us find ways to innovate. Throughout the series, we will also discuss what we can learn from other sectors outside of higher education. Observing and learning from other sectors such as corporate alumni or non-profits is both helpful and inspiring.
I am also excited that this series will explore research in advancement because a lot of the time academic research just stays on paper— practitioners don't often get to hear about the results and what they imply for the field.
Plus, a podcast series on alumni engagement and community building has been on my to-do list for a while now. I think podcasts are a great content format. All you have to do is hit play, you can tune in during some downtime without staring at a screen.
What topics are you most looking forward to discussing?
The series will cover a bunch of relevant topics—from the importance of strategy and meaningful metrics to alum stories and mentoring.
I am most looking forward to engaging with the different experts and getting to hear their stories. We will be speaking to a diverse range of guests from around the world. I am really excited to hear the different perspectives and discuss the key takeaways that can add to the profession as a whole.
As you know, each Brite Ideas episode will ask the guest for 3 Brite Ideas on their expert subject. Please could you share yours on international alumni relations and global engagement?
International alumni are strategic partners for internationalization.
Most institutions and businesses will eventually need to internationalize to partake in a globalized economy. Alumni abroad can liaise on behalf of their alma mater to open opportunities whether it be to build partnerships with other universities or to start research projects or find business opportunities. Alumni can provide institutions with a wealth of reliable on-the-ground knowledge that can help them make better decisions. Asking loyal alumni abroad to take part in developing the institution's international strategy engages them in a meaningful way. I have yet to meet international alumni who do not want to help their alma mater abroad to be successful in their home country.
International alumni engagement is based on a positive emotional bond.
Building relationships and loyalty with international alumni starts with the first contact they have as prospective students with the institution. Deciding to study abroad can have a tremendous impact on the lives of international students and their families due to the financial costs and the big unknown awaiting them in that other country away from home. So, how seriously we take their inquiries shows that we care about the big step they'll be taking. How we welcome them once they arrive and if we provide them with a community of friends to accompany them throughout their stay will define their experience either positively or negatively. After they graduate, does the institution provide them with an alumni network or a mentoring program that can help them find jobs? Universities should realize that for international students and alumni their alma mater becomes their home away from home.
It takes community building for a sustainable global village
The pandemic has shown how much we all depend on each other and the importance of community building. Identifying the virus so fast and the subsequent vaccines have been possible by communities of researchers collaborating. There are many examples of how alumni from across the world helped their alma maters abroad with crowdfunding, supporting international students at a distance, collecting masks, other medical equipment, and much more. That has been possible because many of these universities have been building alumni communities throughout the years and could rely on their alumni for support during a crisis. But it goes beyond the immediate crisis, alumni communities, universities, governments, and businesses can work together for a more sustainable future. Universities play an enabling role in achieving the UN Sustainable Development Goals and surely their alumni communities can show their impact locally and globally.
Thanks, Sandra!
The first episode of Brite Ideas will be released in March!

Hivebrite is an all-in-one community management platform. It empowers organizations of all sizes and sectors to launch, manage, and grow fully branded private communities. Schedule a demo today!