For this episode of Brite Ideas, host Sandra Rincon spoke to Karen Cairney, CEO and Founder of Cairney and Company—a global company of innovative and creative fundraisers, strategists, communicators, researchers, trainers, and coaches.
Karen fundamentally believes that your people are your greatest asset and the key to achieving your goals. Her ability to bring out the best in people is a recurring theme throughout her 25 years career in Canada, the US, Asia and the UK.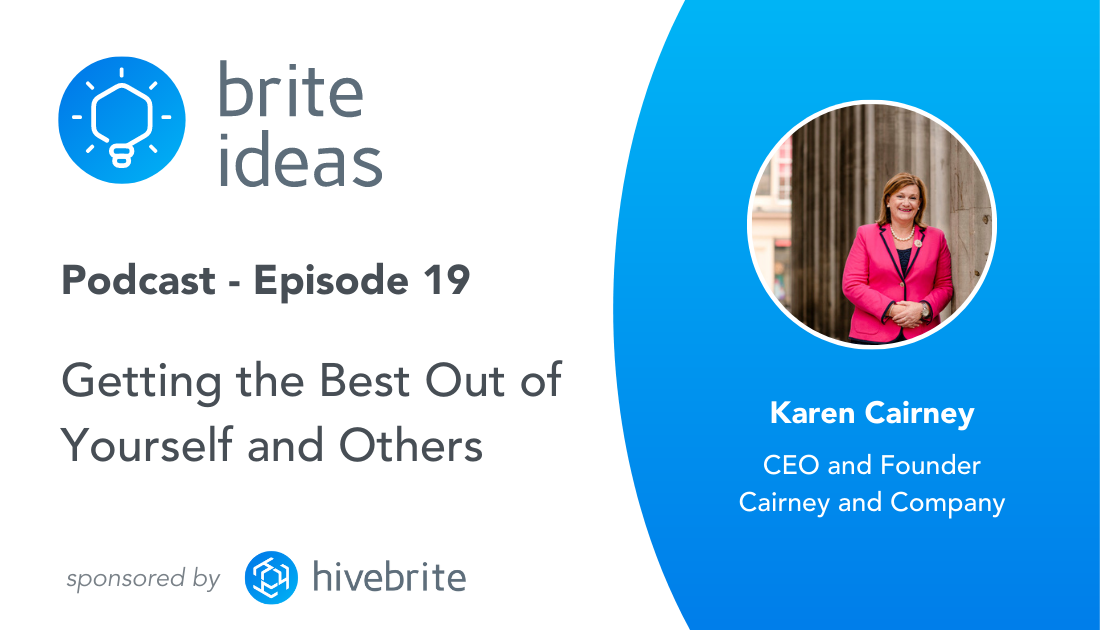 Advancement professionals spend a lot of time building and nurturing relationships and serving others but can forget to nurture their inner selves.
Listen in as Sandra and Karen discuss:
How you can use emotional intelligence as a tool to empower yourself

How advancement professionals can use emotional intelligence to better interact with stakeholders

The importance of learning to "dance in the moment"

And more
Brite Ideas on Getting the Best Out of Ourselves and Others
In every episode, we ask our guest to summarize the conversation with their brite ideas.
Here are Karen's brite ideas on getting the best out of ourselves and others:
- Build a culture of listening within yourself and others. Give people your full attention—minimize distractions around you and clear your head. You don't just want to hear, you want to seek to understand while being your most authentic and sincere self.
- Recognize and address emotions in yourself and others. Experience empathy to strengthen your connections with others and remain curious. Curiosity is a great space to be in because it opens your mind to hear the words of others.
- Ask powerful questions to demonstrate you're engaged and listening while allowing those you work with to be solution-focused and encouraging exploration.
- Use the power of reflection as your own personal, powerful tool to develop yourself.
Listen to the podcast to discover more about these brite ideas and other topics discussed!
Hivebrite is an all-in-one community engagement platform. It empowers organizations of all sizes and sectors to launch, manage, and grow fully branded private communities. Schedule a demo today!