If you want to forge a deep and authentic relationship with your audience and encourage meaningful engagement, social networks—such as Facebook and Linkedin—are not the answer.
Private online communities are.
Free, but at What Cost?
A lot of organizations simply choose social media platforms like Linkedin and Facebook to start their communities simply because they are free and easy to get started.
But wouldn't it be better to build your online community on something that you actually own?
A private space you could brand and customize based on your community goals? A space that offers purpose-built features to strengthen member engagement?
Sure, online community management software is not free. But in most cases, the potential return on investment from a successful and vibrant private community far outweighs the costs.
Let's take a look at some examples.
A customer community can significantly increase customer lifetime value and lower acquisition costs.
A corporate alumni community to keep in touch with former employees can help accelerate recruitment and capture business leads.
A community for your current employees can increase employee retention, as well as boost productivity.
In many cases, payback of community costs can be seen in less than two years!
And you don't need to be a technical whizz to create your community on these types of platforms. Turnkey community management platforms like Hivebrite's mean that you don't need any technical expertise to set up your community!
More Meaningful Engagement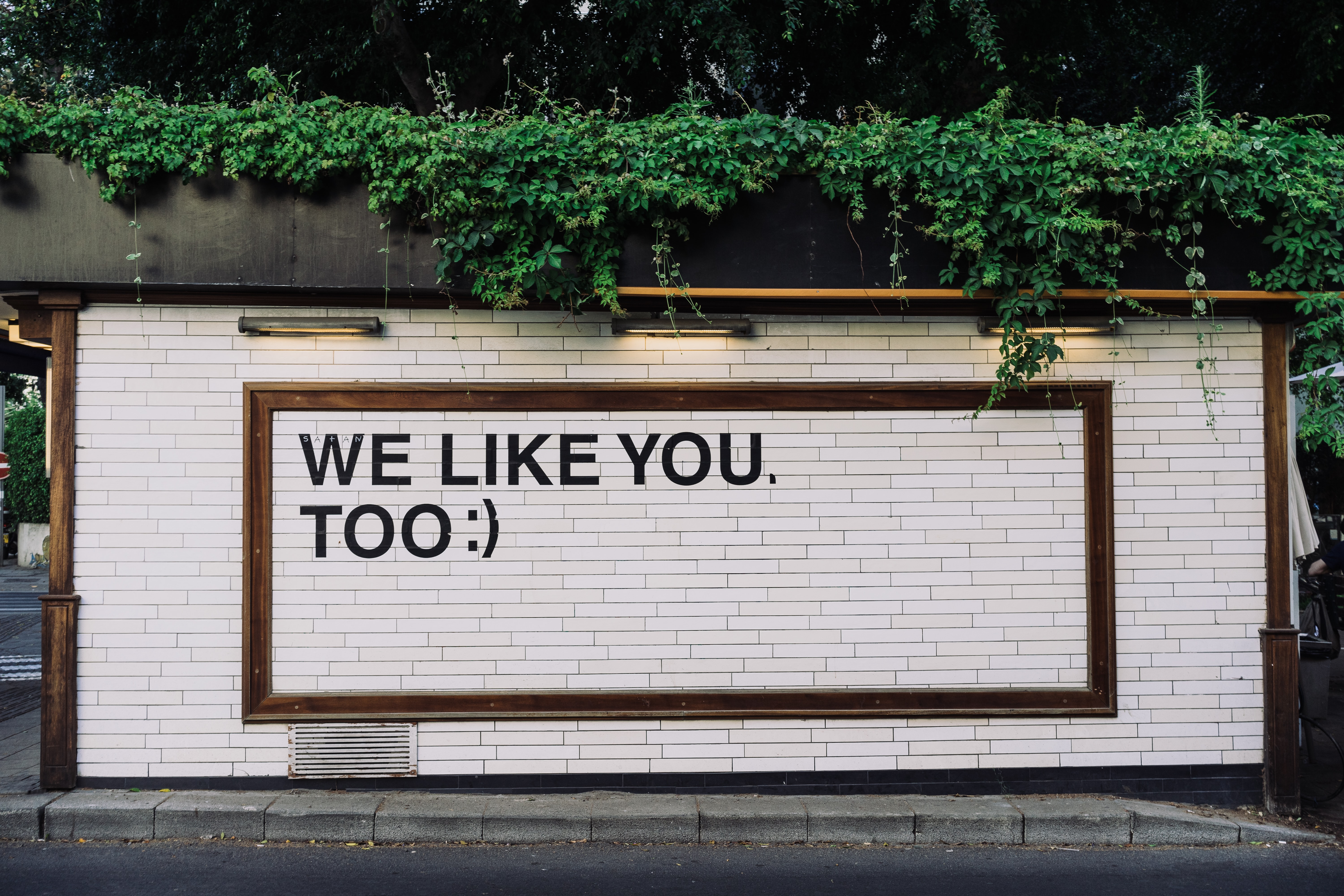 It's hard to galvanize and mobilize your audience on social media platforms.
The experience on these networks tends to be more individualistic with pressure to project a certain self-image.
Sure, people follow you, like your content, they may even share it. But what does this mean? Is it legitimate action or just lazy liking?
Private online communities offer a safe and secure environment.
There is less pressure to maintain a positive self-image—in some communities members can remain anonymous.
There are fewer distractions (ads and cat memes). And stricter controls around who can join reassure members, often leading to them feeling more confident, valued, and less intimidated. These controls also ensure that your community isn't overrun by sales pitches and spam.
All of this facilitates authentic self-expression and a feeling of belonging. Members are more likely to reach out to share ideas, opinions, and best practices, ask and answer questions, and take action.
This meaningful engagement drives the value and ROI of your community. It helps you better understand the needs of your members so you can build a more sustainable community.
The best community management software provides advanced features designed to strengthen engagement amongst members.
A directory to search and connect with members based on criteria such as location or expertise, an interactive media center to share resources, and dedicated areas for subcommunities are just some of the features that help enhance engagement in private online communities.
Ownership and Control of Data
If you don't have ownership of the platform, you will always be dependent on the platform owner and have to play by their rules.
Public platforms like Facebook limit your access to consumer data that could be extremely valuable to your organization. They have the right to use this data for advertising and targeting purposes.
With a private community, you own all the data. You can guarantee you have your members' permission to collect their data. You can be transparent and clear about why you need it and what you do with it.
You can export the data for integration, reporting, etc to ensure your community stays healthy and on track for its goals.
More Actionable Analytics
Social networks provide you with pre-defined reports listing new members and top content. But running your own analytics on members and content is very tricky.
Private community platforms give detailed analytics on member-specific activity, as well as metrics on events, membership, and revenue. These reports can be completely customized to fit individual business requirements.
A Better Member Experience
Social media platforms offer little room for branding. You can add a couple of images and your logo, but other than that your space is going to look like any other organization's. And if they decide to completely revamp their look and layout tomorrow, you won't get much of a say in the matter.
Private community management software enables you to create a fully branded community.
You have access to the back end and can customize the features so you have better control over the member experience and can design your community to fit your strategy and target audience(s).
You can also customize your URL, which is better from a branding standpoint and means that the community will be accessible in countries like China, as well as in workplaces.
Public social networks provide little ability to segment your messages, content, discussions, and community members.
With a private online community, you can control who sees what—based on location, membership type, expertise, etc. This means you can offer a superior community experience by providing highly relevant content and conversations to each member.
Better Control of the Structure of the Community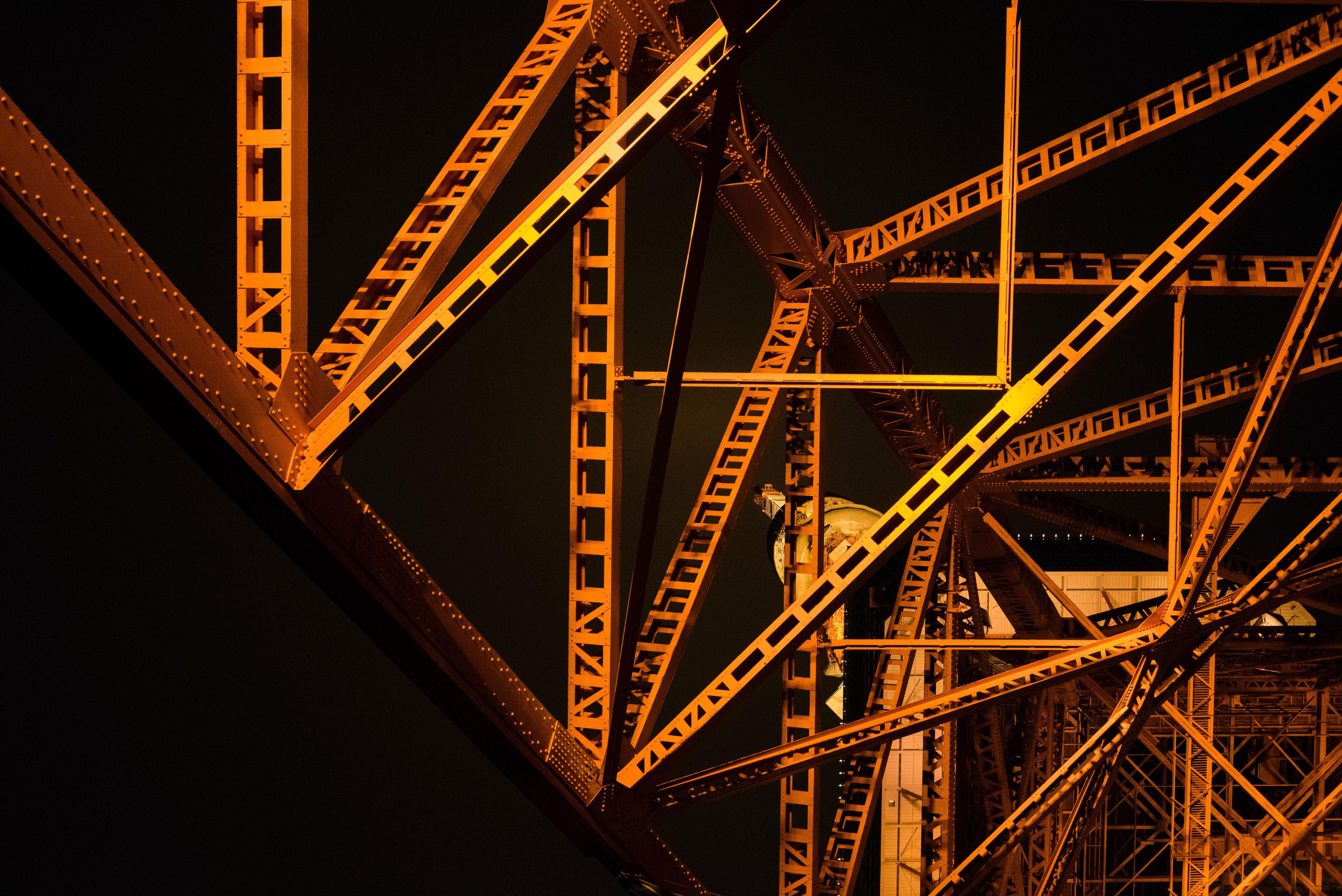 As your community grows and evolves, you may want to create groups (sometimes referred to as sub-communities) to offer your members more personalized content and support.
When done right, a group strategy can make your community even more valuable to members by offering a more relevant experience based on targeted content, events, and more. This boosts engagement, helps better support community goals, and leads to further long-term community growth.
It is possible to create subgroups on some social networks. For example, you can do this with Linkedin groups, but the features are limited and access to the groups has to be manually managed. This means that you have to manually and regularly check that each group's membership matches the data in your CRM or membership system.
The best private online community platforms offer advanced group features. Creating a group is quick and easy to do via the back office and permission settings can be managed based on real-time member data on your platform. You can extend admin abilities to volunteers so they can manage your different groups—a great way to extend your resources but not your budget.
More on how you can grow engagement with a group strategy here.
Further Thoughts
While private online communities do share some similarities with social media platforms such as connecting people online, there are extensive differences regarding experience, strategy, and behavior.
These differences make private online communities far more effective for creating successful communities with focused and authentic engagement.
It is also worth noting that there has been significant backlash regarding social networks in recent years. The propagation of fake news and hate speech, privacy concerns, and ad fatigue are just some of the reasons that an increasing number of people (and organizations) are moving away from social networks like Facebook.
Savvy organizations have observed this trend and wised up to the value and importance of creating a private online community.
[Webinar Reply] Moving a Community From a Facebook to a Private Community Network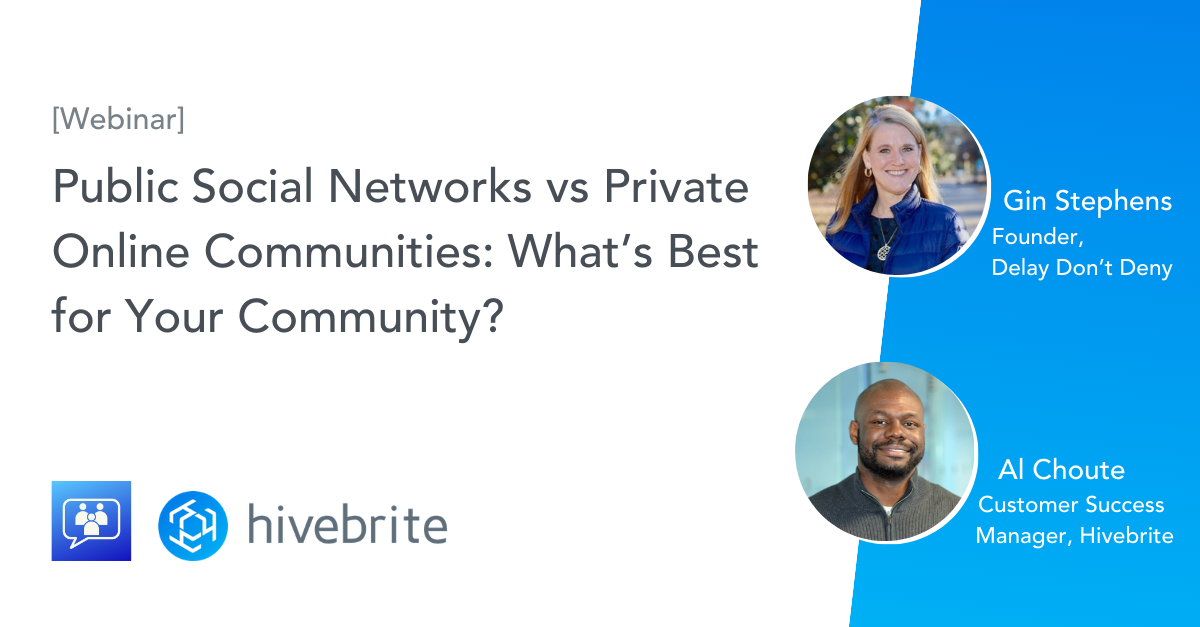 Watch our one-hour webinar with Gin Stephens, founder of Delay, Don't Deny, and discover why she moved her community from Facebook to a private community platform, how she ensured members moved with her, and what she would have done differently.
Hivebrite is an all-in-one community management platform. It empowers organizations of all sizes and sectors to launch, manage, and grow fully branded private communities. Schedule a demo today!